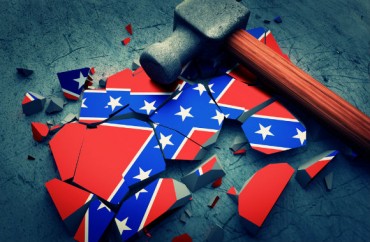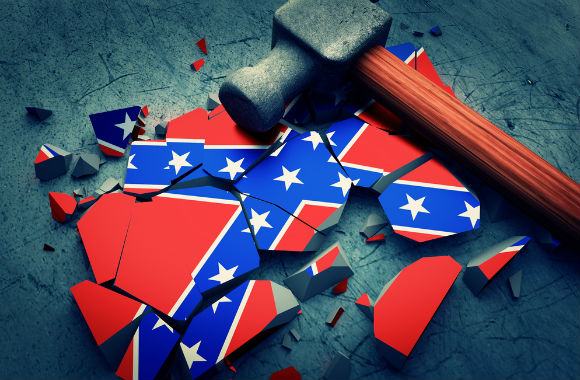 At a meeting with University of Maryland officials last Thursday, students revealed a two-week old "bias" incident: Someone carved a Confederate flag in a dormitory bathroom stall.
The defaced stall in UMD's Somerset Hall houses the school's CIVICUS program, whose "founding belief" is that "engaged members of civil society have an obligation to be aware of the world outside the classroom."
According to The Diamondback, in the meeting students complained to Chief Diversity Officer Roger Worthington about the lack of notification regarding the incident … especially since some students were quite traumatized it:
"Nobody really knew about the situation that happened," said Zach Caplan, a CIVICUS member. "The fact that staff members on campus didn't know. The fact that members in the counseling center didn't know, even though there were students who had to go to the counseling center to receive counseling on that issue."
"I would hope to see more transparency in the situations with hate speech on campus and I would like to see more of an understanding that people should know what's happening and it's not just something the university is trying to contain to cover their asses," said Caplan, a freshman government and politics major. …

Tomiwa Sobande, a Somerset Hall resident, said the lack of transparency about the etching incident helped foster the fear officials tried to prevent.

"I don't like the way what happened at Somerset was kind of contained and only we knew," said Sobande, a freshman English and psychology major in CIVICUS. "It was badly handled." …

"The fact that I don't know what should happen to a person if they get caught putting up hate speech is a problem," said Saba Tshibaka, a sophomore computer science major who was representing the Ethiopian Eritrean Students Association and Black Honors Caucus. "If I cheat in a class, I know exactly what's gonna happen to me. [Punishments for hate bias incidents are] not clearly labeled out." …

Karla Casique, a senior journalism major representing the American Indian Student Union, said she's felt ignored in her four years at the university.

"There has been no form of protection," Casique said. "I personally have lost faith in administration and other people in authority because of the hours of work and dedication we put in and we haven't been paid for it and a lot of us have been ridiculed for it."
Regarding Ms. Tshibaka's concerns, the ambiguity over consequences for "hate speech" just may have something to do with First Amendment protections.
In addition, the Office of Diversity's Timea Webster adds some common sense regarding "bias" incident consequences:
"What do you do? What is a robust response?" she asked. "Personally, I'm like, 'Kick them all off,' but who are they?"
Chief Diversity Officer Worthington told those in attendance at the Thursday meeting that a "bias" incident protocol should be finalized within a week. No word if the measure(s) are to include notifications of "bias" incident hoaxes.
And Worthington had better hurry — the Student Government Association's Taylor Green warned that "students right now feel very disenfranchised," and that he feels like "it's only a matter of time before an incident happens that causes the campus to go up in flames."
MORE: Don't care much about 'hate bias' incidents? A new U. Maryland program will cure you of that
MORE: Man charged in U. Maryland swastika vandalism is black former UMD employee
IMAGE: Blade Tucker/Shutterstock.com
Like The College Fix on Facebook / Follow us on Twitter