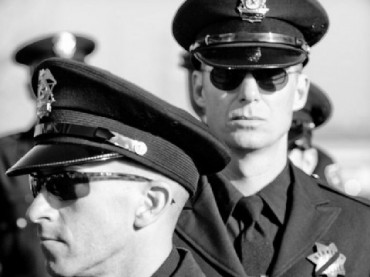 A conservative activist was kicked off Broward College on Wednesday night after a campus security guard overheard her asking a student if "big government sucks," a video of the incident posted on YouTube shows.
Lauren Cooley, a 22-year-old field coordinator for Turning Point USA, was at the public university as it hosted a gubernatorial debate between Charlie Crist and Rick Scott.
She spent nearly 90 minutes there asking students "Hey, do you think big government sucks?" as she worked to find students interested in signing a petition to launch a Turning Point student club on campus, she said in an interview with The College Fix.
Turning Point USA is a national nonprofit aimed at galvanizing students to rally for liberty, small government and free-market values, and is pushing a 10-week "Big Government Sucks" campus activism program this fall.
As Cooley was leaving the Davie, Florida campus she saw a male student and asked him if he thought big government sucked, and at that point she was told by a campus security guard that she needed to go to the "free-speech area," she said in an interview Friday with The College Fix.
She told him free-speech zones are unconstitutional, and she eventually started to walk away when the security guard said "if you just want to hang around I have a supervisor coming," a four-minute video taken by Cooley shows.
"I don't really want to hang around so I think I am going to leave," Cooley replied. 
"Can I have your name, please, or your identification," the security guard then asked.
"No, I don't have to give identification," Cooley said.
"Well, actually you do," the guard said back. "On Broward College campus, I am allowed to get your identification. If you don't you are refusing to give me your identification. I need to call a Davie police officer over here, and we can handle it from there if you like."
"Am I free or are you going to detain me," Cooley said.
"I am not detaining you, I am asking for your identification," he said.
"OK, then I am leaving," Cooley said, and walked off.
As she did so, the security guard used his two-way radio to give a description of Cooley, and he followed her in his golf cart, the video shows. He eventually asks her to stop, and she asks why.
"What have I done wrong," she repeatedly asked. When he did not respond, she continued walking. That's when two police cars rolled up.
"Sir, I don't know what I have done wrong," Cooley starts up when a police officer gets out of his car and walks up to her. He replied: "I don't either but I am about to find out. If you are on this campus and you are asked to identify yourself you need to identify yourself."
Cooley tells him she left her identification in the car, and the policeman then asked the campus security guard, "What's the issue with her?" The guard explains she's been asking students "if big government sucks" and that he pointed her to the free-speech area on campus.
"I can't talk to students?" she asked the officer.
"No, you cannot," he replies. "You need to leave the campus now. … If you do not leave you will be arrested for trespassing. … Have a nice day and go on your way."
"Alright," Cooley said as she walked away. "Remember, big government sucks."
"Yeah, I know," the officer can be heard saying in the background.
Cooley, in an interview Friday with The College Fix, said she was frustrated by the incident.
"Broward College, it's a public school, I live in Broward County, it's literally the college my taxdollars go to partially fund," she said.
She said she has actually been on the campus several times on behalf of Turning Point and this was the first time anything "negative" happened.
"I would speculate this happened because of heightened security for the governors debate, but that just shows the larger your government grows, the quicker your rights are violated," she said.
Cooley, who has been trained on her rights and how to handle interactions with campus security and law enforcement through Turning Point as well as the conservative organization Leadership Institute, said she believes she did nothing wrong nor violate any law.
"The campus security officer thought it needed to be in a free-speech zone, but it's ironic because everyone walking into the debate hall was talking about a candidate or something political," she said.
As a result of this incident, she said her group plans to launch a petition on Change.org to ask Broward College to remove its "unconstitutional" free-speech zone.
Broward College representatives could not be reached late Friday for comment.
Jennifer Kabbany is editor of The College Fix. Cooley is a former College Fix student contributor.