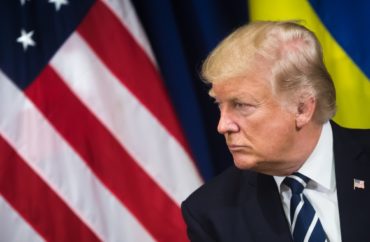 'This would not have happened if the 2020 election went the other way'
Conservative college students across the nation said they believe that Russia would not have invaded Ukraine if Donald Trump was president, according to several interviews with The College Fix over the last couple days.
The students, nearly all of whom are members of conservative and center-right groups on campuses such as Turning Point USA and Young America's Foundation, also voiced concerns that President Joe Biden appears weak. They also sided with Ukraine over Russia, but some said America should not get involved.
A common theme among students is the belief that the way former President Trump carried himself kept global conflicts to a minimum.
"Other countries knew President Trump wasn't a bluffer or a politician, and ultimately that dealt him the winning hand at having zero wars during his term," said Preston Parra, a student at the University of West Georgia.
Caitlyn Scott, a student at Point Park University in Pennsylvania, also agrees foreign policy would have been better under Trump.
"If this administration was run in the way that Former President Trump conducted his administration, we most likely wouldn't have seen something like this happen," Scott told The College Fix.
She added, "If Russia later decides to attack one of the countries involved with NATO, I don't think Biden would really have a clue as of how to provide U.S. aid to these countries."
On Feb. 24, Russian forces began their invasion into Ukraine. Russia's attack on Ukraine is taking place on land and in the air, as troops and missiles cause chaos and casualties in the Kyiv region.
Although the United States has yet to offer military aid to either country, monetary sanctions have been placed on Russia. Additional sanctions were placed on Russia on Friday, President Biden announced on Twitter.
But University of West Florida student Kenzie Cueno said she believes Biden's weakness as a leader has allowed this conflict to happen.
"I don't believe Biden responded properly to the situation as a whole. It goes to show when America is weak, it affects everyone," she said.
University of Georgia student Noah Ring said the Russian invasion of Ukraine is "sad and outraging."
He connected what is currently going on to Biden's "botched withdrawal" regarding the Taliban's invasion of Afghanistan.
"Putin sees a weak America," Ring told The College Fix. "Let's hope Biden can change that."
Penn State University student Orlando Clark said the situation is "horrific."
"It honestly makes me so sad to see what people are going through," Clark said. "I hope Ukraine stands strong."
"This would not have happened if the 2020 election went the other way," he added.
Ky Urban, a student at Southern New Hampshire University, said he believes the U.S. should not get involved in the conflict. Instead, he said, America should be focused on skyrocketing inflation and people crossing the U.S. southern border illegally.
And Savannah Barchus, a student at California State University East Bay, called the conflict "unfortunate" and "very sad." She is a moderate and the only student interviewed for this article who is not involved in a conservative campus group.
"Holding sanctions on Russia I think is the most we could do without escalating the situation and getting multiple countries involved," Barchus said.
Parra, the student at University of West Georgia, called the conflict a "vicious tragedy."
"I don't think there is any other way to look at what's happening there," he said.
But Parra added America should not get involved.
"Every American who gives a damn should write their congressman and woman, and demand that they not authorize this troop movement and do everything to keep our men and women in uniform home where they belong, because Lord knows we could use their help in a lot of places here," he said.
MORE: Former Duke researcher pleads guilty to working as a Russian agent
IMAGE: Spark of Light / Shutterstock
Like The College Fix on Facebook / Follow us on Twitter