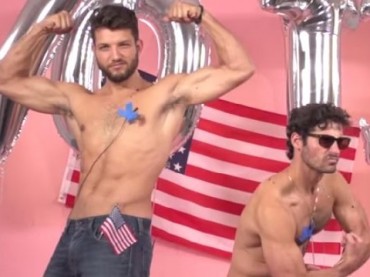 Social media campaign by enlightened college women showcases true female empowerment
As liberal magazine editors from Cosmopolitan paid male models to entice North Carolina State University females to head to the polls Tuesday, nearby conservative college women stood up for true women's liberty.
This group of female students from Elon University, about 45 minutes away from N.C. State, took to social media to showcase what real female empowerment looks like – and it's not scantily clad male models who swoon young women into voting by riding with them on a party bus to the voting booths.
They posted pictures of themselves on Facebook and Twitter holding written statements such as: "We are students, not consumers," "No Cosmo, I don't want a shirtless model. I want LIBERTY," and "I don't need a party bus to vote." 
The gals, myself included, wanted to send a message: Women are not pawns who can be easily swayed by an attractive model.
Our counter campaign was undertaken by members of the Network of enlightened Women (NeW) chapter at Elon. As president of the chapter I can summarize our main message: Cosmopolitan's party bus was absurd. Women vote because they care passionately about the issues. The exploitative nature of Cosmopolitan's effort was degrading and disgraceful.
Our campaign aimed to demonstrate women are a diverse electorate who vote regardless of whether they are on a bus with a model or not, and our posts gained traction and received a lot of traffic, reminding the North Carolina community and the nation that women will make it to the polls without a party bus and hot guys.
Feminism today often voices this popular notion: "Value me for my mind, not my body." Yet it's clear liberals at Cosmopolitan magazine do not value women for their minds—they view women as sexual objects who will vote at the sight of chiseled six-pack abs.
On Tuesday, Republican Thom Tillis defeated Democratic incumbent Sen. Kay Hagan to represent North Carolina in the U.S. Senate.
The message is clear: Conservative women will vote for the best candidate, they don't vote down gender lines.
What's more, conservative students have a voice. Conservative students will not settle. Conservative students are voting and the 2014 elections and have helped demonstrate that a "party bus" of models is an insulting mechanism to entice young voters.
Yet, North Carolina State University is part of North Carolina's 4th congressional district, where incumbent Democrat David Price won re-election in the U.S. House of Representatives last night. Did the party bus – hosted by a magazine that openly endorsed Democrats – play a role? Let's hope young women saw through the degrading ploy, regardless of the election's outcome.
So Cosmopolitan, try all you would like to support liberal candidates and to entice young women voters with models. But keep in mind, North Carolina conservatives are working hard and playing hard.
College Fix contributor Diana Stancy is a student at Elon University and president of the Network of enlightened Women (NeW) chapter at Elon.
Like The College Fix on Facebook / Follow us on Twitter
IMAGES: Courtesy of Diana Stancy