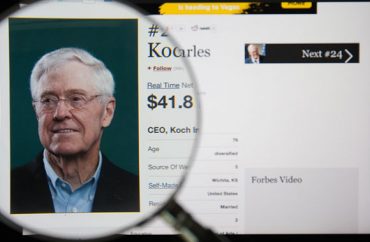 College fund leader approached Koch because he criticized 'over-criminalization'
When the prospect of a Donald Trump presidency seemed like a longshot, progressive groups and faculty often trained their ire on the billionaire industrialist Charles Koch for his efforts in higher education.
They didn't like his funding of pro-free enterprise academic centers and the Antonin Scalia Law School, among other activities.
Maybe now they should be thanking him for funding their own causes.
The Washington Post reports that Koch's foundation* and family business just dropped $25.6 million on the Thurgood Marshall College Fund, which "supports dozens of historically black colleges and universities, or HBCUs."
MORE: Public university demotes Koch-connected professor for joke
The money will launch a research center through which HBCU scholars can "research education, criminal justice and entrepreneurship in communities plagued by high crime and other social ills."
It will also fund scholarships for HBCU students and academic forums, and create an "opportunity index" with Gallup that surveys "targeted communities of interest."
It's actually the second Koch donation to HBCUs, following a $25 million gift to the United Negro College Fund in 2014.
Ralph Wilson of UnKoch My Campus, an activist group that opposes Koch involvement on campus, claims "the trade-off is academic freedom" wherever Koch money goes.
In this case, however, Koch did not initiate the discussion:
Johnny C. Taylor Jr., president and chief executive of the Marshall fund, traced the genesis of the gift to a television interview he heard two years ago in which Koch was discussing the perils of "over-criminalization" and other barriers to opportunity.

Taylor said he found Koch's views intriguing and sent him a letter soon afterward. He was surprised to get a call from a Koch representative within a few days. That started a dialogue. In late 2015, Taylor attended a conference Koch sponsored in New Orleans called "Advancing Justice."

MORE: Anti-Koch activists tolerate funding with liberal strings attached

Taylor said that even though some HBCUs were represented at the conference, it struck him that relatively few people of color were participating in a discussion of issues critical to minority groups.

"You need to bring more of the community in and listen to them," Taylor told Koch's team, which led them to ask Taylor what more should be done.
Taylor ignores the political optics of his Koch association, saying he wants to solve problems in Chicago, Charlotte and Ferguson, Missouri, "where recent tensions between police and minority communities have underscored long-standing social and economic challenges," according to the Post.
MORE: Effort fails to derail renaming of law school after Scalia
Like The College Fix on Facebook / Follow us on Twitter
IMAGE: GongTo/Shutterstock