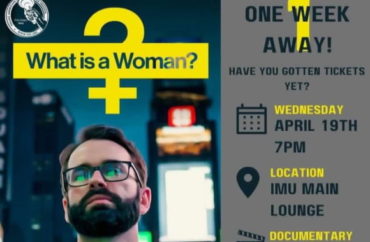 Conservative students also threatened, harassed, doxxed
A University of Iowa conservative student group set to host Matt Walsh next week has been the center of campus controversy for the last six weeks, with its members being doxxed, harassed, threatened — and even infiltrated by left-wing students seeking to disrupt their event.
The Young Americans for Freedom chapter is scheduled to host Walsh as part of his ongoing "What is a Woman?" nationwide campus tour, with his documentary that questions transgenderism to be screened prior to his campus speech April 19.
Social media screenshots show a user called "Antifa Hawkeye Action" planning to disrupt the talk, posting the event's rules and asking followers "how do we cut them off?"
It's just the latest effort in a massive public smear campaign assault against the young conservative students that also included at least two leftist students who pretended to be sympathetic to their cause gaining access to the group to work to discredit them.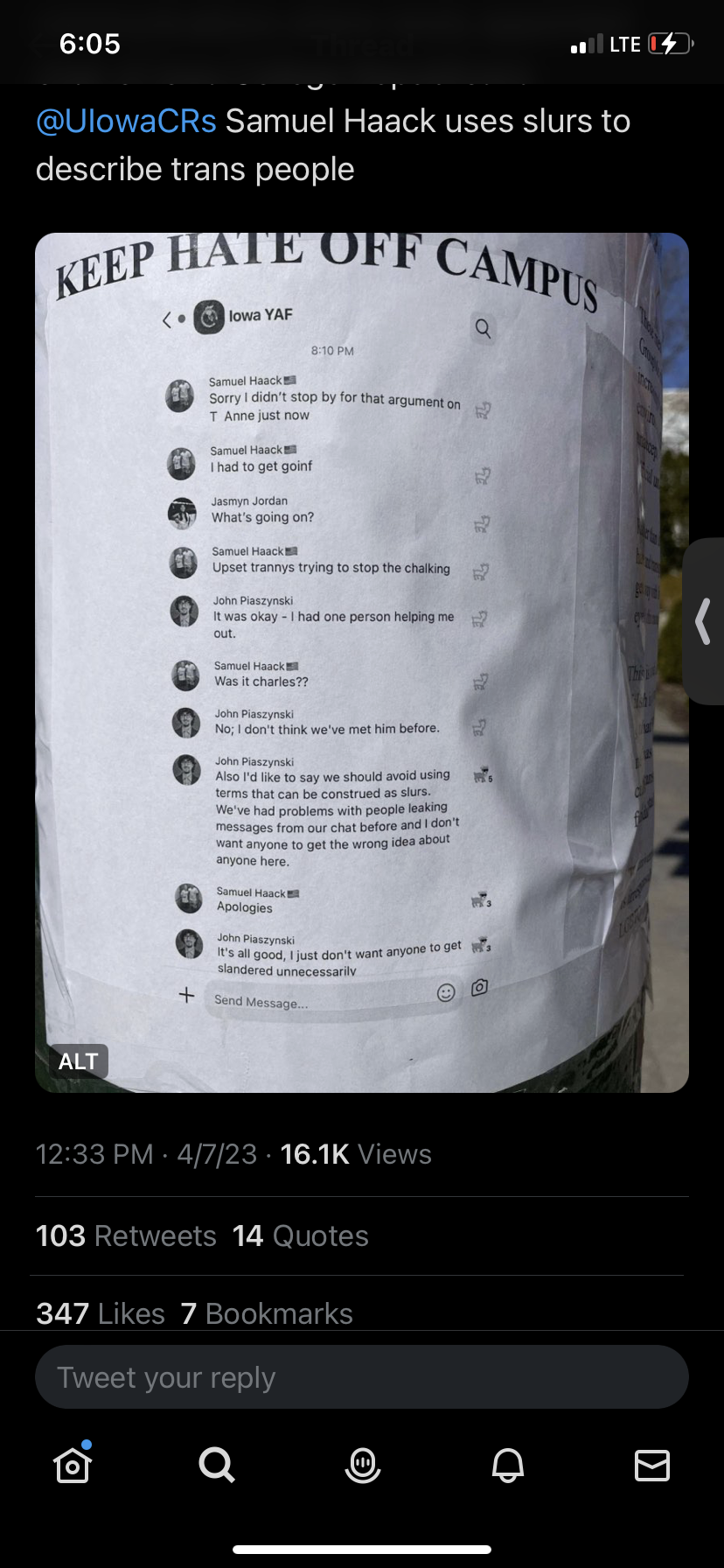 In one example, a student who expressed interest in conservative ideals joined the Young Americans for Freedom chapter's GroupMe messaging chat, then screenshot a conversation in which one of its members used the word "trannys."
Copies of the chat were then posted across the campus under the banner "Keep Hate Off Campus," leading to the conservative student receiving online threats and attacks by peers.
Jasmyn Jordan, chairwoman of Iowa Young Americans for Freedom and a student contributor to The College Fix, said she and her vice-chairman spent over four hours going through their GroupMe to determine the "mole," who then lamented on social media they were finally "kicked out" of the conservative student's messaging group.
In another example, Jordan said she was "shocked" to recently determine a student who had attended their meetings since last year is actually president of the Iowa Young Democratic Socialists of America.
Asked to weigh in on the infiltration, Jordan told The Fix: "Iowa Young Americans for Freedom welcomes diversity of thought and difference of opinion. My organization and I are highly interested in listening to and having discussions with a wide variety of people."
"But I very strongly condemn the people that choose to abuse our kind offers of dialogue and acceptance by maliciously joining our organization in an attempt to disparage and discredit Iowa YAF."
Jordan (pictured) said when she and her peers advertise the Walsh event on campus, their flyers are almost instantly torn down and peers quickly wash away their chalkings and replace them with pro-LGBTQ messages despite a campus policy that disallows erasing free speech chalkings.
But even more troubling, she said, are the personal attacks and doxxing.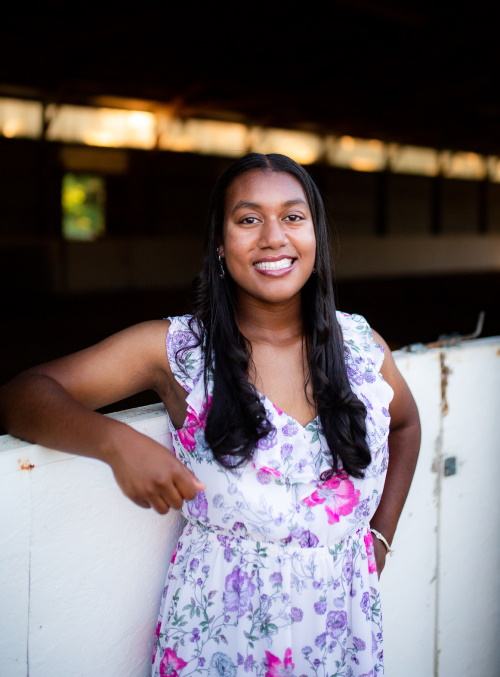 Last week she and her YAF executive board members were walking in downtown Iowa City when a woman "out of nowhere begins screaming at the top of her lungs 'You f****** transphobes! Get the f*** out of here! You don't belong here! F*** transphobes do not belong here!'"
"This was especially alarming to me because I do not know her yet she was able to recognize me and my board member's faces," said Jordan.
Some social media messages have even suggested maybe violence against YAF members. Jordan said it's frustrating because several conservative students are now afraid to go to the event for fear of their safety.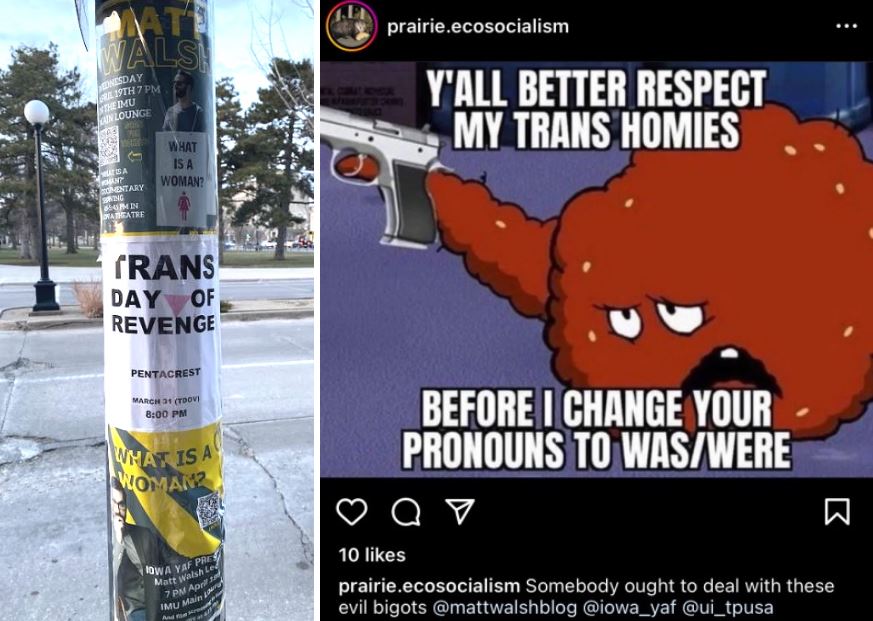 On March 31, on the nationwide Transgender Day of Visibility, YAF tabled about detransition awareness. It prompted a small counter protest, and some students yelled and cursed at them as they walked by, she said.
But the most troubling moment was when a male student "came up to our table, took out his backpack, and dumped its contents onto our table," Jordan said.
"Inside his backpack were a bunch of crumpled up Walsh posters, what looked like dirty underwear, and a garbage bag, and he told us to clean up the mess," she said.
As for the Walsh event, "we have received a plethora of online threats and harassment privately and publicly," Jordan said.
Eventbrite in March also canceled the Walsh Iowa event from its ticketing platform as an alleged violation of its Community Guidelines, forcing the group to use Zeffy.
Now protesters are "encouraging each other to spam the ticket link and buy fake tickets because they believe that will make no one show up to or have seats for the event," Jordan said.
Flyers that pepper the campus and nearby streets also call Walsh a "violence inciting, anti-freedom, pro-authoritarian hate monger," adding "it is horrifying that the university chooses to invite him into the living space of trans kids."
"… If the university wishes to stay true to its promise of being a livable environment for all students, it will cancel this event."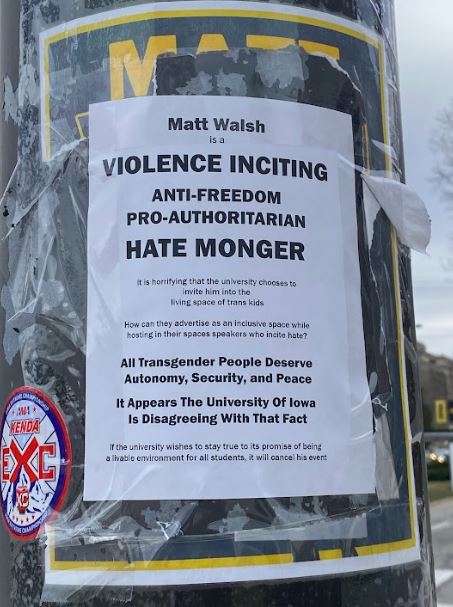 A petition against the event that has garnered almost 500 signatures states "allowing Walsh to have a place to spread incendiary and violent speech with no repercussion [will] provoke fear amongst the students that were promised protection here."
A protest is also scheduled to take place on campus at the same time as the Walsh event.
The University of Iowa media relations department has yet to respond to a request Friday from The College Fix seeking comment.
MORE: More than 600 Washington and Lee students, faculty sign petition against Matt Walsh appearance
IMAGES: social media screenshots
Like The College Fix on Facebook / Follow us on Twitter