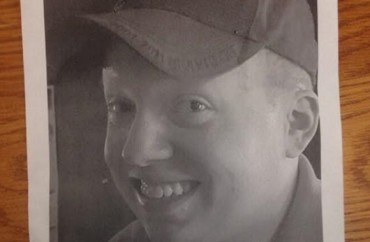 A University of Pittsburgh conservative student – and his parents – are being harassed after the student live-tweeted comments and observations from a student government meeting at which attendees bemoaned the visit of free speech provocateur and anti-feminist Milo Yiannopoulos.
Pitt student Doug Steeber, a member of conservative and Republican groups on campus, was recently the victim of two parody accounts on social media — including one that published the home address of his parents — as well as a campus flyer on which his parents' home phone number was included.
The flyer essentially accused Steeber of liking to go to student government meetings to "photograph and make fun of sexual assault survivors," adding "if you have any issue with this kind of behavior, you can call my home phone … and maybe talk to my mother … or my father … about what their sons are up to."
The flyer listed their names and phone number. The information was redacted by The College Fix.
In an interview Tuesday with The College Fix, Steeber said he was shocked and concerned by the targeting of his parents.
"I never imagined that taking part in a free speech event would end up putting my family in jeopardy," Steeber said. "I have no issue with being challenged on my opinions, but to encourage the harassment and threatening of my family is unacceptable."
Steeber told The Fix his parents have received strange calls at night and troubling emails from unknown email addresses. He said he and his family have filed reports with local police, who are looking into matter.
The College Fix on Tuesday requested comments from University of Pitt's Office of the Chancellor, Board of Trustees, and Vice Chancellor of Communication. No one replied.
In defense of Steeber, Intercollegiate Studies Institute's President Christopher Long wrote a letter to campus leaders. Intercollegiate Studies Institute co-sponsored Yiannopoulos' talk along with the College Republicans and others.
"I am writing out of concern for the personal safety of one of your students …" Long wrote in the March 4 letter. "In the last forty-eight hours Pitt senior Doug Steeber has been the victim of an ongoing campus postering and social media campaign that encourages harassment and threats …
"His home address, picture, parents' names and home telephone number have also been posted with explicit intent of encouraging harassment …"
Long called on the campus to speak out on the issue.
"I hope that you will make a public statement … so that the entire University of Pittsburgh community is clear about the school's embrace of free speech, that political harassment will not be tolerated, and in fact that it will be punished … " his letter stated.
RELATED: Conservative student resigns campus job after faculty bosses call him obstacle to safe space
RELATED: These 8 conservative college students were bullied for their beliefs
At the crux of the controversy is Yiannopoulos' visit to the campus Feb. 29 to give a lecture on the subject of free speech.
"During his talk, Yiannopoulos called students who believe in a gender wage gap 'idiots,' declared the
Black Lives Matter movement a 'supremacy' group, while feminists are 'man-haters,'" according to the student paper The Pitt News.
As a result, left-liberal students on campus complained the event made them feel physically unsafe, despite the fact that police attended the speech to provide safety and protection. The next day the student government convened a special meeting to voice opposition to the event and demand new policies to prevent a similar speech from happening, the Daily Caller reports.
Steeber live-tweeted several quotes and observations from the meeting, which was open to the public. Examples of student quotes Steeber tweeted out include: "liberal education is here for discourse, but we can't have people be traumatized," "there should have been trigger warnings, SGB needs to protect us from people like Milo for mental health," and "last night was an exercise in systemic oppression."
Steeber also described the scene, noting at one point "student government members are now sitting and sobbing into the microphone."
"Photos of his tweets indicate that his comments were mostly descriptive in nature, with a mild dose of snark," the Daily Caller reports, adding that when students discovered what he was doing, some began to attack him publicly.
"They were screaming at me," he said. "[One woman's] friends had to physically restrain her, it looked like."
Steeber told The Fix he is disappointed by recent actions.
"A university campus is supposed to be a haven for free speech," he said. "It should be a space where free thought and the exchange of ideas is encouraged."
RELATED: Vandalism on Ivy League Campus Attacks Conservative as 'Racist Rape Apologist'
Like The College Fix on Facebook / Follow us on Twitter