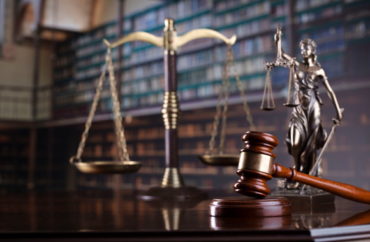 ANALYSIS: 'They use the diversity statement to find out who we are and keep us off'
A dearth of conservative students among law review mastheads at three of the country's top law schools has prompted accusations that center-right students and members of the Federalist Society are discriminated against when it comes to access to the prestigious publications.
The problem matters because law reviews "are the ultra-status symbol of law pedigree in law school," said University of Chicago law school student Benjamin Ogilvie, who did research to determine the apparent bias against conservative law students at the top-ranked Columbia, Northwestern and Stanford law schools.
By counting the number of conservative law students on mastheads, or lack thereof, Ogilvie alleges the three law schools foist "underhanded discrimination" on right-leaning law students.
Ogilvie, who also contributes to The College Fix, published his allegations in UChicago's independent student publication, the Chicago Thinker, in mid-July.
"Law reviews play a key role in the status-driven world of legal academia," he reported. "Students on law reviews select and edit legal scholarship, determining which law professors get tenure and which legal and policy ideas enter circulation."
Although academic law reviews are often technically managed by campus officials, the standard practice tasks student editors with masthead selection, meaning right-wing students are not running afoul of administrators but their progressive fellow students.
At Columbia, Ogilvie cites some right-leaning students who said that Columbia Law Review's discrimination against conservatives "is widely known at the school," an alleged practice that particularly targets law students connected to the conservative Federalist Society.
Of the nine students on the Columbia FedSoc Chapter's executive board, none are on the Columbia's Law Review masthead despite having federal clerkships.
Northwestern University reportedly has practiced similar discrimination—of Northwestern's 17 FedSoc executive board members, only five are listed on the Northwestern Law Review's masthead, and none in senior positions, Ogilvie found.
Federalist Society members would go on to hold prominent positions at a less prestigious campus journal, Northwestern's Journal of Criminal Law and Criminology.
Ogilvie told The Fix he was alerted to the bias after conservative students informed sources at the Thinker about political discrimination stemming back as far as 2021. According to the Thinker's reporting, this pattern of political discrimination extends all the way to Stanford, currently the top-ranked law school in the nation.
Earlier this year, Stanford drew fire from conservatives after Fifth Circuit judge Kyle Duncan was heckled and berated at a speaking event by not only students but criticized onstage by then-Stanford DEI Associate Dean Tirien Steinbach.
Ogilvie's analysis suggests it's not merely off-campus conservatives who are being targeted by the Stanford Law machine.
One Stanford student and FedSoc member described the situation to the Thinker: "They use the diversity statement to find out who we are and keep us off."
Asked to weigh on the situation, criminal defense lawyer Michael Cicchini told The College Fix that "A lot of employers view the law review experience – especially the publication of a note or comment – as evidence of the student's ability to research, think critically, edit, and write."
"These are important skills in most if not all areas of law … for the most sought-after jobs, such as judicial clerkships and elite-firm associate positions, law review membership is probably closer to a mandatory prerequisite than a mere accessory or resume-booster," he said.
Cicchini further notes that his experience in law school proved the importance of meritocratic selection.
"Factors, such as a candidate's race, sex, sexual orientation, political views, and religious views, were not considered at all," he said via email.
To lawyers like Cicchini, the prestige of college law review membership is further proof of how serious such allegations of discrimination can be: "How would a law review applicant feel if he or she was admitted to the law review even partly because of his or her race, sex, religious or political views, etc., rather than on a pure, blind, merit-based determination?"
"I couldn't imagine putting anyone in that position."
Ogilvie voiced similar concerns to The College Fix, arguing the bias against conservatives is "an indicator that there may be pushback on the idea of law reviews being meritocratic."
Membership on a law review is key to an aspiring lawyer's professional and ideological development, he said.
"It's one of the few areas law students can influence the discussion," he said.
MORE: Review The College Fix's Campus Cancel Culture Database
IMAGE: Zolnierek / Shutterstock
Like The College Fix on Facebook / Follow us on Twitter