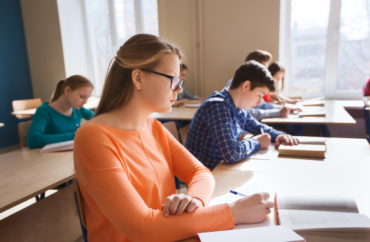 Recently released results of a survey on free speech shows that conservative students enrolled throughout the University of Wisconsin System are not comfortable voicing their opinions in the classroom for fear of social retribution.
The results of the "Views on Freedom of Speech" survey, taken last year, were released in February. They highlighted a general hesitancy by conservative students to voice their opinions in a classroom setting.
Some 67 percent of Republicans said they wanted to express a viewpoint during class but chose not to. When listing reasons why, the top response was fear of being disagreed with, followed by fear of not knowing enough about a topic, then fear of being dismissed as offensive.
When asked if campus administrators should ban the expression of views they deem as harmful, 71.5 percent of Republican-identifying respondents said "not at all" compared to 33 percent of "very liberal" Democrat-identifying respondents who said "a great deal."
Reversing the question to ask whether administrators should allow the expression of views deemed as harmful, 60.8 percent of Democrats said "not at all" while 42 percent of Republicans said "a great deal."
UW Madison College Republicans Chairwoman Ali Beneker said the survey's findings were no surprise to conservatives on campus.
"This survey confirms what we students have known since stepping on campus: the UW System and its faculty curate a culture in which conservative students are pressured to conform to the majority," Beneker told The College Fix in a March email interview.
"For an institution that claims to value free expression as much as they do, I sure hope these results serve as a wake-up call."
UW system President Jay Rothman said he was not surprised by the results of the survey.
"We are a divided country – politically, socially, economically, and culturally," he said through a spokesperson to The College Fix. "And these divisions are reflected in the opinions expressed by our students as well as in their understanding of First Amendment issues."
"Our students have lived this experience before they step onto our campuses – in high schools and workplaces, on social media, and with family and friends."
The survey was funded by the GOP-backed Menard Center for the Study of Institutions and Innovation.
Students were also asked a number of demographic identifying questions through the survey, which were used to sort respondents by political affiliation, sexual identity, and UW system campus location. Their answers were then accumulated by demographic and given a percentage indicating the number of students who responded a certain way.
In a section focused on willingness to discuss viewpoints, students responded to questions pertaining to how their personal views are accepted by their peers. When asked if others will tolerate views similar to theirs, 65.5 percent of Democrats and 21.5 percent of Republicans said yes.
The survey found similar answers to its free expression section: 31 percent of Republicans answered strongly that instructors create a classroom environment in which they would feel uncomfortable expressing unpopular views. Over 60 percent of Republicans also said they felt pressured by an instructor to agree with a certain viewpoint.
Of those who did report expressing a controversial opinion, students reported experiencing social consequences, as opposed to institutional ones, at a rate of almost 10 to one regardless of political identity. Less than 40 percent of Democrats and less than 30 percent of Republicans reported being taught their First Amendment rights in a classroom.
Additionally, the survey highlighted other troubling details about political discourse on a UW campus.
Over half of "very liberal" respondents said that a campus speaker should be disinvited if their message is viewed as offensive. When asked which actions they see as acceptable when approaching a controversial speaker, 67.5 percent of Democrats said "yes" to protesting outside of an event and 90.5 percent said the same about attending the event to ask tough questions.
In a response to the survey, UW Madison News wrote that the results confirm their "long-standing commitment to free speech, civil dialogue and belonging."
"The survey affirms that a substantial majority of students at the University of Wisconsin–Madison and across the UW System largely believe that their instructors encourage diverse viewpoints in the classroom," the university reported.
"At the same time, many students across the political spectrum report they often do not express their views on controversial topics in class, in part because they worry about the reaction of other students. The survey data also suggests that these concerns about the consequences of sharing controversial viewpoints in class are more prevalent for politically conservative students than for others."
"Helping students engage with diverse viewpoints and find ways to take part in civil dialogue even when they disagree has been an ongoing focus and priority for UW–Madison," it continued.
UW Madison Chancellor Jennifer Mnookin said in the article that students at the school should be challenged to think differently throughout the course of their education.
"A university education should challenge students to think in unfamiliar ways. Part of our job is to help students critically examine information and ideas in ways that challenge their preconceived notions and that may, sometimes, be uncomfortable," Mnookin said.
"We have a responsibility to help them become informed citizens and must continue to work to ensure students of all backgrounds and political perspectives have opportunities to engage on our campus."
The article also referenced a 2021 UW-Madison political climate survey as proof that the campus was working toward a more discussion-inclusive campus.
"The results of the System survey in many respects amplify the findings of the campus survey — together they demonstrate that classrooms continue to be places where students can engage in meaningful discussion and talk across differences. They also add to growing data from college campuses nationally," the article stated.
The College Fix's analysis of the campus survey results, however, found no improvements in political climate since 2016, despite investing millions toward this cause.
The UW system survey's findings are consistent with Pew Research that found people of varying political identities find interaction difficult and that political discourse is becoming more polarized.
MORE: UW-Madison sees no improvement in campus climate despite millions invested in DEI
IMAGE: Syda Productions / Shutterstock
Like The College Fix on Facebook / Follow us on Twitter