UPDATED
'Antifa got involved' – but it was students who shut it down
After student protesters tried to shut down a talk by contrarian feminist Christina Hoff Sommers at a Portland law school Monday, two questions have lingered: Where was security, and why did administrators side with the disruptors over Sommers?
The speech by the American Enterprise Institute scholar and host of the "Factual Feminist" YouTube series was cut short at the behest of administrators when it became clear protesters were not letting up.
"Initially, there were no plans for security" at the event at Lewis & Clark Law School, Sommers told The College Fix in an email late Tuesday. "For good reason: A moderate feminist was coming to campus to defend free expression and reasoned scholarship."
But "things changed when several campus groups sent out a letter calling me a fascist and demanding my invitation to speak be rescinded," she said. As soon as "the local Antifa got involved, the administration became concerned."
While the administration has acknowledged protesters violated Lewis & Clark rules, it has not specified what discipline if any they might face.
Sommers confirmed to The Fix the administration has yet to apologize to her for letting protesters repeatedly disrupt and ultimately cut short her speech.
MORE: Protesters shout down Sommers after organizers refuse to disinvite her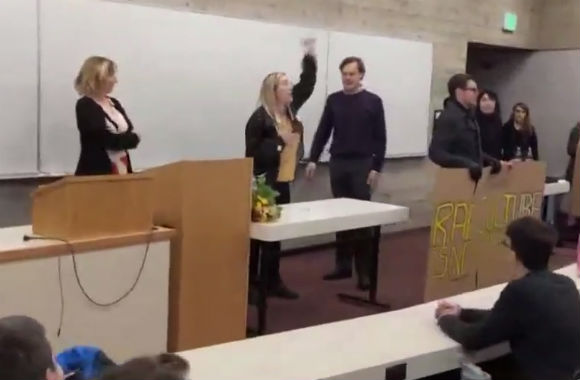 Popular MSNBC host: 'The college should be embarrassed'
Best known for her books Who Stole Feminism? and The War Against Boys, Sommers was invited to speak by the law school's chapter of Federalist Society, the conservative legal group.
Several radical-left student groups, including the student chapter of the National Lawyers Guild, pressured the Federalist Society to disinvite Sommers – "a known fascist" – because she "denies the existence of male supremacy" among other sins.
The protesting groups said they would bring signs but did not mention plans to repeatedly disrupt the event, including by chanting, singing and making accusations against Sommers as she spoke.
Wow. Legal director at @ACLU_OR retweets letter urging disinvitation of Christina Hoff Sommers. This is …

what's that word I'm looking for …

ah yes, deplorable https://t.co/5A7Xt6wYI2

— Cathy Young (@CathyYoung63) March 6, 2018
The vice president of the Federalist Society chapter, David Sorensen, told The Fix in an email Wednesday that it "proportionally escalate[d] the security measures" as public attention grew for the event.
The student group had not anticipated "widespread protest" until the "male supremacy" letter led by the National Lawyers Guild, after which it was in "constant contact" with the administration, Sorensen said. 
He couldn't comment on the exact number of security officers or their orders, but said they were both inside and outside the room, which was closed to the public "in an attempt to lower both the perception of and the actual risk" of a threat at the event.
"We have no unkind words for the administration on this point, as they were entirely willing to discuss and coordinate in response to a completely unexpected occurrence," Sorensen said.
Dean of Diversity and Inclusion Janet Steverson and several faculty members sought multiple times to stop the protesters from disrupting the event, he said. "Steverson was placed in a particularly difficult situation" and she "meant no harm" when she asked Sommers to skip to the question-and-answer segment. Sorensen said the original format called for Sommers to speak for 30 minutes and Q&A to last 30 minutes.
While the chapter doesn't approve of the way it was handled, "the school was confronted with a situation beyond the norm that developed at an overwhelming pace," Sorensen said. 
"We are currently under the impression that the administration will continue to support our right to bring different views and voices to campus," he said, pointing to a planned "campus forum to discuss the speech, the protest, and the events around it in the coming week."
According to local station KGW, "several deans" sent an email to law students Tuesday night informing them of such a forum next week on "free speech and academic freedom."
Sommers was less forgiving than the students who invited her, taking to Twitter Tuesday night to make clear this was not an example of Portland-area rabble-rousers crashing a campus event.
"All of the protesters [in the room] were students at the LAW school," she said. "Campus security limited attendance to Lewis & Clark law students. Antifa folks stayed outside and tried to drown me out with chants."
To be clear: All of the protesters were students at the LAW schoool. Campus security limited attendance to Lewis & Clark law students. Antifa folks stayed outside and tried to drown me out with chants. Great account in @NRO by @johnsonhildy https://t.co/KxBXA7tZ9H

— Christina Sommers (@CHSommers) March 7, 2018
Tweeted photos and video of the event by former Fix contributor Andy Ngo, a graduate student at Portland State University, drew national attention, and prominent political pundits gave their thoughts on the matter.
"Who taught these students to show such contempt for a free exchange of ideas?" said Joe Scarborough, co-host of Morning Joe on MSNBC. "And why is their argument so weak that they are left heckling speakers instead of engaging them intellectually? The college should be embarrassed."
Canadian-American political commentator David Frum, a senior editor at The Atlantic, simply said the incident "is so wrong" and called Sommers "brave."
MORE: Antifa calls off plan to shut down Sommers Portland State talk
Who taught these students to show such contempt for a free exchange of ideas? And why is their argument so weak that they are left heckling speakers instead of engaging them intellectually? The college should be embarrassed. https://t.co/kmXboKqJBi

— Joe Scarborough (@JoeNBC) March 6, 2018
The student protesters are "Intersectional Oppression Olympics bots," tweeted Dave Rubin, host of the political talk show The Rubin Report. He interviewed Sommers at Portland State last year, an event that was initially targeted by Portland-area antifascists.
According to a onetime newspaper colleague of Ngo, Portland State alum Mike Bivins, the school officially banned media coverage inside the event. He said a spokesperson told him "a dean" would not make an exception for Bivins to cover the event.
I called to clarify if this was a Lewis and Clark decision or something requested by the Federalist Society. The comm director said it was the college's decision to deny entry to the event. After the email she said she spoke to a dean who would not make an exception.
Lame

— Mike Bivins (@itsmikebivins) March 5, 2018
Sommers told The Fix she didn't know why the administration tolerated the protesters' tactics, but thought officials could "be intimidated" by the "hostile environment" created by the student activists.
A spokesperson for the law school, Roy Kaufmann, did not respond to a Fix request to answer whether the administration knew in advance how sustained the disruptions would be.
The Fix also reached out to Dean Steverson, who is seen interacting with Sommers amid the disruptions, as well as her executive assistant Tori Leder, and Director of Diversity and Inclusion Brandon Lee. They did not respond to multiple calls and emails. A message to the generic diversity office email address was not returned.
Diversity dean told her to hurry up – protesters were 'getting antsy'
Steverson, also a law professor at the school, told Inside Higher Ed that she anticipates "consequences" for the student protesters but that she did not know what the punishment might be.
Sommers took aim at Steverson personally on Twitter for siding with the disruptors, saying the dean interrupted her speech to ask her to move to the question-and-answer segment.
"Shouldn't the dean have insisted protesters allow me to finish, rather than cut speech short?" she wrote.
Steverson rushed Sommers to finish because she was "going on too long" and Q&A would otherwise be "minimal," according to Inside Higher Ed. "I could see the students getting antsy," Steverson said.
MORE: Sommers details 'axis of intolerance' killing higher ed
Law school spokesperson Judy Asbury told the Portland Tribune that Steverson and Sommers "negotiated" an agreement to shorten the speech amid the disruptions.
Steverson convinced the student activists to sit down by "persuading them to wait for question-and-answer period," so that the speech could finish, according to Asbury.
"Obviously, Twitter and Facebook are pretty lit up," Asbury said about the incident going viral. "But there's not been a real even-handed discussion of the merits of controversial speakers on campus," and the law school doesn't have any plans for policy changes.
"That's what we're really working toward steering the conversation," Asbury continued, saying she's optimistic about the future of viewpoint diversity at Lewis & Clark. "We really do welcome speakers with a variety of views. That's part of the law school experience."
UPDATE: The Federalist Society chapter at Lewis & Clark Law School, which invited Sommers, responded to Fix queries after this article was published. Its comments have been incorporated.
MORE: Female student rips down 'Where Feminism Went Wrong' flyers
IMAGES: KGW/YouTube, Lewis & Clark Law School
Like The College Fix on Facebook / Follow us on Twitter