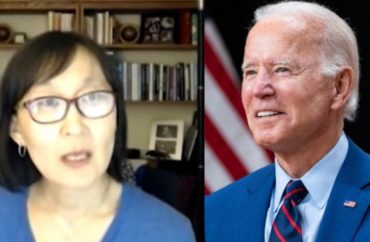 Omarova wants to 'end banking as we know it'
Cornell University Professor Saule Omarova has withdrawn herself from the nomination for the Comptroller of the Currency.
The Ivy League law professor had faced criticism from Republicans and purple state Democrats for her support for ending private banking "as we know it."
Omarova also said that she wanted to bankrupt the oil and gas industry by shutting off its ability to get capital — a normally absurd statement but even scarier because she would have overseen thousands of banks and other saving institutions in her Treasury Department role.
"The way we basically get rid of those carbon financiers is that we starve them of their sources of capital," Omarova said in an undated video posted by a conservative group.
Saule Omarova names names and makes it clear in this recording that West Virginia's coal industry is in her cross hairs as part of her climate agenda.

Make no mistake "shift away from fossil fuels" means mass unemployment in coal country. pic.twitter.com/M9MeGKXFow

— BidenNoms, A Project of AAF (@bidennoms) November 11, 2021
Omarova also advocated for ending private banking by giving the Federal Reserve more power of deposits.
Her Vanderbilt Law Review paper, published in October 2020, described her plan to "radically redefine the role of a central bank as the ultimate public platform for generating, modulating, and allocating financial resources in a democratic economy—the People's Ledger."
"By separating their lending function from their monetary function, the proposed reform will effectively 'end banking,' as we know it," the Cornell professor said.
She also hid her undergraduate thesis on "Karl Marx's Economic Analysis and the Theory of Revolution in The Capital" and refused to turn it over to Senator Pat Toomey, a Republican member of the Banking Committee. Omarova wrote the paper while at Moscow State University on the Vladimir Lenin Scholarship.
"Ms. Omarova has been celebrated on the far left for promoting ideas she herself has described as 'radical.' That's a point we can agree on," Toomey said. "These are very, very radical ideas. In fact, I don't think I've ever seen a more radical choice for any regulatory spot in our federal government."
MORE: Princeton offers Marxist-taught 'Black Lives Matter' course
IMAGE: Jain Family Institute/Youtube; White House/Wikimedia Commons
Like The College Fix on Facebook / Follow us on Twitter