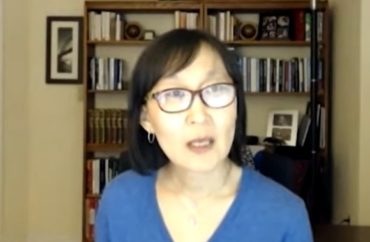 Biden nominated the Cornell law professor to oversee the U.S. banking system
Senator Pat Toomey is calling on the Comptroller of the Currency nominee to release her undergraduate thesis that discusses Karl Marx.
The Pennsylvania Republican sent a letter to Cornell Professor Saule Omarova (right) requesting a copy of her undergraduate thesis paper titled "Karl Marx's Economic Analysis and the Theory of Revolution in The Capital."
Omarova attended Moscow State University on the Vladimir Lenin Scholarship.
"While it appears that you have deleted any reference to your thesis in the version of your curriculum vitae (CV) that is currently available on the Cornell Law School website, the paper appeared on your CV as recently as April 2017," Toomey wrote in an October 5 letter.
He gave her until October 13 to provide a copy of the thesis. "Given that your thesis was written while you were a student at Moscow State University in the late 1980s, I assume that it was written in Russian and will require translation," the senator wrote.
"Ms. Omarova has not responded to the Ranking Member's request," Amanda Thompson, a spokesperson for Toomey and the banking committee, told The College Fix via email on October 15. "We certainly hope she reconsiders so Senators have the information necessary to fulfill their constitutional duty to advise and consent on appointments."
Omarova's nomination would begin in the Senate Committee on Banking, Housing, and Urban Affairs, where Toomey is the ranking member.
The College Fix emailed Professor Omarova on October 12 and October 15 to ask her for comment and if she plans to turn over her thesis paper but did not receive a response.
No one more 'radical' than Omarova, Toomey says
Senator Toomey elaborated his concerns in a Senate floor speech on October 6.
"Ms. Omarova has been celebrated on the far left for promoting ideas she herself has described as 'radical.' That's a point we can agree on," Toomey said. "These are very, very radical ideas. In fact, I don't think I've ever seen a more radical choice for any regulatory spot in our federal government."
"I know that is a very sweeping statement to make. I think I can stand by it," Toomey said.
He criticized Omarova for writing in 2020 that she wanted to see a complete transformation of banking.
"There's a lot that's extraordinary and radical here—but maybe the heart of it is that Ms. Omarova doesn't just want tightened regulation of banks," the Pennsylvania Republican said. "What she wants to, and I quote—this is her words—'effectively end banking as we know it.' Those are words she wrote just last year."
The phrase comes from an October 2020 paper Omarova submitted to the Vanderbilt Law Review. Her research paper "outlines a series of structural reforms" to "radically redefine the role of a central bank as the ultimate public platform for generating, modulating, and allocating financial resources in a democratic economy—the People's Ledger."
"By separating their lending function from their monetary function, the proposed reform will effectively 'end banking,' as we know it," Omarova wrote.
ALERT: Check out the Campus Cancel Culture Database
IMAGE: Jain Family Institute/YouTube
Like The College Fix on Facebook / Follow us on Twitter