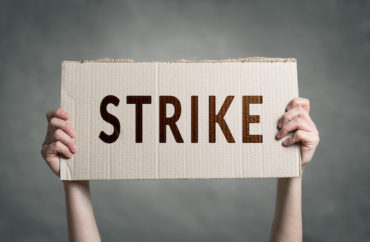 Campus administrators met with them after just one day of the strike
Resident Advisors at Cornell University went on strike the week before students returned to campus, seeking fulfillment of a number of demands. In the face of students returning to campus, resident advisors were concerned about the safety of their jobs.
The RAs ended their strike after only a day when a university official agreed to meet with them.
The strike included "skipping virtual training meetings" and refusing to "participate in staff meetings," according to The Cornell Daily Sun, the campus paper.
The resident advisors had 10 different demands laid out in a petition. Their strike started on August 19 and officially ended on August 20.
The demands included more personal protective equipment, hazard pay and a withdrawal of a requirement that the resident advisors meet with each resident two to three times per semester.
According to the petition, the resident advisors are only supposed to work 20 hours per week, and the requirement to regularly meet with students is an "absurd time commitment."
[THREAD] Our demands for Fall 2020 #GiveUsEmpathy pic.twitter.com/q1z6zNDVIn

— Cornell RA's (@cornell_ra) August 19, 2020
Ryan Lombardi, the vice president for student and campus life, responded to the petition on August 19 in a statement obtained by the Cornell Daily Sun.
"This fall has presented Cornell with unprecedented challenges," Lombardi said, "and it is critically important that all who play a role in reopening our campus to feel they have the information and support to safely perform their jobs."
Lombardi stated that all staff should have been given several pieces of personal protective equipment as well as hand sanitizer, thermometer and a key fob. He also shared that the cleaning and sanitation standards are being raised to further ensure the health and safety of Cornell.
Lombardi did not respond to multiple emailed requests for comment over the past week from The College Fix about the demands for hazard pay and other criticism from the resident advisors.
The current compensation includes free housing, a stipend of at least $500 for first year RAs, and free use of Cornell's fitness centers for resident advisors in their second year, according to an email from a resident advisor, Ramon Reyes, to The College Fix.
Reyes confirmed to The College Fix that the meeting with Cornell faculty and leadership has taken place and that the Resident Advisors were given more personal protective equipment and the promise of no retaliation for striking.
The resident advisors wanted alternative compensation because the fitness centers remain closed this semester due to coronavirus. They also want better representation at university housing and residential meetings and their own staff liaison.
Reyes, who is a senior at the Ivy League university in Ithaca, New York, would not rule out another strike if the school does not meet its demands.
"We believe the good faith communications we have received from university admin will continue, but if for any reason this is not the case, we are prepared to take collective action to rectify that," Reyes told The Fix.
The university did not respond to an emailed request for comment on Wednesday about the resident advisors' demands.
Their concerns came amidst some struggles with limited available staff and a "lack of guidance from Cornell," according to reports in the Cornell Daily Sun. The campus paper quoted an unnamed resident adviser who said some resident advisors have been "making the policy up ourselves as we go."
Reyes said that the resident advisors plan to continue to meet with university staff about their concerns but there are no updates on the other demands the group made.
MORE: Grad students create GoFundMe to support cost-of-living strike
IMAGE: Sandra Matic / Shutterstock.com
Like The College Fix on Facebook / Follow us on Twitter