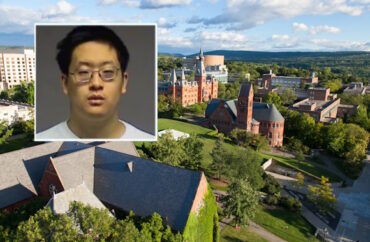 A Cornell University student allegedly behind a series of brutal online threats to shoot Jewish students and slit their throats has been arrested and charged.
"Patrick Dai, age 21, a junior at Cornell University who is originally from Pittsford, New York, was arrested today on a federal criminal complaint charging him with posting threats to kill or injure another using interstate communications," a statement released Tuesday from the U.S. Attorney's Office stated.
National Review reports that according to Dai's LinkedIn page, "he served as a Cornell 'winter orientation leader' during early 2021 and an 'orientation supervisor' from March 2021 to February 2022. Dai's parents told the New York Post that, though they do not believe their son posted the messages, he has been in such a deep depressive state since 2021 that he is incapable of controlling himself, a depression that began one year into his university studies."
The extreme threats were posted to an online forum about fraternities called Greekrank, prompting the Ivy League institution to increase security on campus. The posts came just days after graffiti stating "Israel is fascist," "Zionism = genocide" and "F*** Israel" was reportedly spray painted on campus.
The threats also came on the heels of an outpouring of support for a Cornell University professor who spoke positively of the Hamas terror attacks on Israel. History Professor Russell Rickford had called the group's actions "exhilarating."
According to the statement released Tuesday by law enforcement:
The complaint alleges that Dai posted threatening messages to the Cornell section of an online discussion site, including posts calling for the deaths of Jewish people and a post that said "gonna shoot up 104 west." According to information provided by Cornell University Police and other public information, 104 West is a Cornell University dining hall that caters predominantly to Kosher diets and is located next to the Cornell Jewish Center, which provides residences for Cornell students. In another post, Dai allegedly threatened to "stab" and "slit the throat" of any Jewish males he sees on campus, to rape and throw off a cliff any Jewish females, and to behead any Jewish babies. In that same post, Dai threatened to "bring an assault rifle to campus and shoot all you pig jews." The charges and the allegations in the complaint are merely accusations. The defendant is presumed innocent unless and until proven guilty.

The charge filed against Dai carries a maximum term of 5 years in prison, a fine of up to $250,000, and a term of supervised release of up to 3 years.
Campus spokesman Joel Malina praised the development in a statement to Politico.
"We remain shocked by and condemn these horrific, antisemitic threats and believe they should be prosecuted to the full extent of the law," Malina said. "We know that our campus community will continue to support one another in the days ahead."
MORE: Pitt students host fifth pro-Hamas protest this month
Like The College Fix on Facebook / Follow us on Twitter