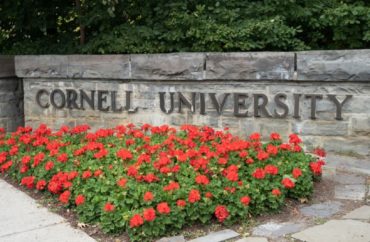 Jewish students living in 'genuine fear,' student says
Extreme online posts threatening to shoot up a Cornell campus building where Jewish students dine, as well as posts about raping women and slitting Jewish students' throats, has prompted increased security at the Ivy League institution as well as a probe by the FBI.
The threats, screenshot and published by the Cornell Daily Sun, were posted to an online forum about fraternities called Greekrank.
One post stated "gonna shoot up 401 west," which is located next to the Center for Jewish Living and houses Cornell's kosher and multicultural dining room, the Sun reported, adding others stated:
"if i see another synagogue another rally for the zionist globalist genocidal apartheid dictatorial entity known as "israel", i will bring an assault rifle to campus and shoot all you pig jews [sic]," said one post titled "if i see another jew" by a poster calling themselves "hamas." "jews are human animals and deserve a pigs death. Liberation by any means. From the river to the sea, Palestine will be free [sic]!"

The post also threatened to rape female Jewish students and behead Jewish babies in front of their parents.
Campus police referred the threats to the FBI and began guarding the university's Center for Jewish Living on Sunday after the posts were discovered, the New York Times reported.
The posts came just days after graffiti stating "Israel is fascist," "Zionism = genocide" and "F*** Israel" was spraypainted on campus, the Sun reported.
The threats also came on the heels of an outpouring of support for a Cornell University professor who spoke positively of the Hamas terror attacks on Israel. History Professor Russell Rickford called the group's actions "exhilarating," according to video obtained by The College Fix.
A statement by the Cornell Coalition Justice for Palestine arguing Rickford's comments were taken out of context has been signed by more than 1,350 professors and students.
Cornell's Hillel chapter told its members to avoid the building threatened with gun violence "out of an abundance of caution."
Molly Goldstein, president of the Center for Jewish Living, told the Sun that the "first reaction from all the students on the ground is genuine fear."
"We've been getting calls from people who weren't on the complex asking if it's safe for them to come back to their room tonight," she said. "We've had people who are too scared to sleep here tonight. So they've gone to other places in Ithaca for their safety."
MORE: Cornell professor who called Hamas attacks 'exhilarating' takes leave of absence
IMAGE: Shutterstock
Like The College Fix on Facebook / Follow us on Twitter