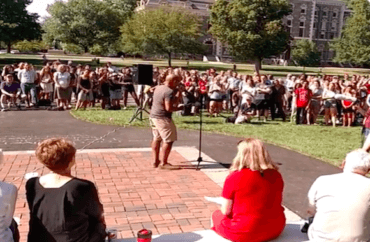 Our fall fundraising campaign runs through Sept. 30, so please consider a tax-deductible donation of any amount to help us continue to publish the best campus news in the nation. Thanks for your support!
'Cornell is a bastion of white supremacy!'
A recent political protest led by Cornell University's faculty, in which protesters were encouraged to squat on one knee in order to raise awareness of racial issues, also featured a rousing round of anti-Israel chanting.
During the "take a knee" protest on Cornell's campus, an event which was meant to "bring awareness to issues including police violence against black Americans," Cornell professor Russel Rickford used his time on the event's PA system to lead the assembled protesters in a series of "Free Palestine" chants, according to Legal Insurrection. 
In the strange, almost ritual-like procedure, seen here, Rickford chants "free," to which the crowd responds, "free," at which point he chants "Palestine," to which the crowd responds, "Palestine." This chant occurs several times, growing faster and faster, before Rickford walks away, at which point the protesters burst into applause.
Writing at Legal Insurrection, Cornell law professor William Jacobson claims that Rickford is "an anti-capitalist, anti-Israel activist and supporter of the BDS movement. He is, perhaps, the most active such member of the faculty."
Having reached out to Cornell's administration, Jacobson was told: "The event in question was sponsored and promoted by the faculty-led Cornell Coalition for an Inclusive Democracy, not the university."
According to The Cornell Daily Sun, at the same event Rickford declared that "Cornell is a bastion of white supremacy," one that is "built on stolen land."
About 300 people showed up to the protest, according to The Daily Sun. Many protesters did indeed "take the knee," though others "remained standing with their fists raised in the air."
Read the Legal Insurrection post here.
MORE: College professors will 'take a knee' in support of nationwide protests
IMAGE: Youtube
Like The College Fix on Facebook / Follow us on Twitter