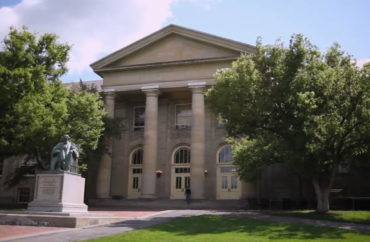 Cornell University is set to hire a diversity administrator focused on social justice programming and equity issues, according to its job description.
The position, titled Senior Associate Dean of Students, Diversity & Inclusion, will work to advance "racial justice and equity" on campus.
The position is a fairly high level administrative job within Cornell's Student Services division. It is estimated to pay at least $128,000 per year.
Cornell's Diversity and Inclusion division is "comprised of identity-based centers and offices that support and empower students from historically marginalized backgrounds while also providing all Cornell community members with opportunities to deepen their understanding of racial justice and equity, expand their allyship skills, engage in dialogue across differences, and be a part of the movement for positive social change," the job description states.
Job applicants must have "extensive knowledge of social justice programing, student activism, and diversity and equity issues" and "five direct years of experience working with belonging, equity, diversity, and inclusion programming and initiatives."
The diversity officer will serve as deputy to the Dean of Students, Marla Love, and command dozens of staff with millions of dollars in salaries. Before being promoted to Dean of Students, Love previously filled the now vacated position for which Cornell is hiring.
A column critical of the position was recently featured in The Cornell Review conservative student newspaper.
"This allocation of staffing resources has now been in effect for five years with little improvement in the campus climate," wrote the author, who asked to remain anonymous.
"If anything, the fear of attack from DEI-peddling social justice warriors has increased as freedom of speech, academic freedom and Cornell's national reputation has further declined. Cornell's elevation of DEI to religious fervor status has left both white and minority students unhappy with aspects of their Cornell experience."
The College Fix spoke with the author of the Review column.
"It is important to note that diversity and equity in this context does not refer to the principle that all men are created equal, and should be treated equally. Rather, this ideology, rooted in critical theory and neoMarxism, posits that all white people are inherently racist, and that people of color should receive special treatment over whites because of their historical oppression," he said.
The new appointee will also co-chair the Bias Assessment Review Team, and its emphasis on racial equity has prompted some concern on campus over whether accused students will be treated fairly.
Love, the dean of students, has advocated for diversity and equity at Cornell in previous positions at the school.
"Love's work on equity and inclusion initiatives has included the creation of the Community Response Team, to support students in distress in lieu of law enforcement," the Cornell Chronicle reports.
According to her "Meet the Leadership" page on Cornell's website, Love works with "diversity units" to "create an intersectional programming model that engages our students in new and innovative ways."
Cornell's College of Arts and Sciences in 2020 imposed a "social difference" graduation requirement on its students, which will mandate that they study "class, race, ethnicity, indigeneity, nationality, language, religion, gender, [and] sexuality" to explore "how hierarchies in power and status shape social differences."
Cornell also recently amended its student code of conduct to expand the definition of harassment to cover statements that may make historically oppressed identity groups uncomfortable or upset.
The college also gives "enhanced opportunities and funding for historically underrepresented students."
In reality, the racial group most underrepresented at Cornell relative to the general population is white people. Despite making up 76.3 percent of the United States, only 35.7 percent of Cornell's full-time undergraduate students are white.
MORE: Cornell students demand cancelation of former 19th century college president
IMAGE: YouTube screenshot
Like The College Fix on Facebook / Follow us on Twitter