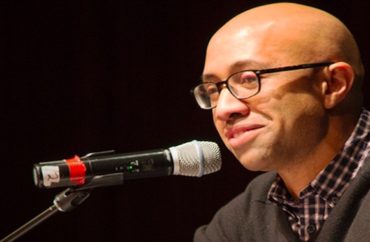 A Cornell University professor defended the violent response of "counterprotesters" to a local pro-Trump rally, claiming it was a "tremendous victory for the forces of anti-racism."
The Ithaca, New York chapter of the Democratic Socialists of America showed up Friday to confront a "Make America Great Again" rally and, according to The Cornell Daily Sun, "backed" Trump supporters into their local headquarters.
As members of the DSA eventually came to outnumber Trump supporters three-to-one, they instigated "physical alterations [sic], blocked traffic and burn[ed] Trump signs."
History professor Russell Rickford, a member of the DSA, said that "it's really important in a town like Ithaca, with its liberal veneer, to actually demonstrate strong opposition to racist and reactionary politics." He added "quite often, liberalism is willing to accommodate the far right, to justify it and, by doing so, legitimize it."
On Facebook, pro-Trump rally organizer Rocco Lucente said members of the DSA "began pushing, shoving, kicking, punching, stealing peoples [sic] signs and flags, taking peoples hats, and attempting to physically intimidate the crowd into surrender." Lucente noted that a 60-year-old woman had her shoulder dislocated during a scuffle, and that Ithaca police didn't arrive until 30 minutes after being contacted. When they finally arrived, all they did was "direct traffic away from the riot."
The DSA promoted the counterprotest on its Facebook page by claiming Ithaca has seen "an increase in organizing by outright hateful racists, on behalf of the worst people and worst aspects of our political system."
"If pro-authoritarian forces are going to keep showing up in Ithaca we need to show them that they are not welcome here," said David Foote, chair of Ithaca DSA, of the motivation behind the counterprotest.

Throughout the afternoon, the DSA members and joining protesters drew a clear line between Trump's politics and themes of racism and fascism — maintaining that Ithaca is not a place where those themes are welcome. …

Like the rally's organizers, Foote said that he had not expected the high intensity of the counterprotesters.

"The event made clear just how much pain and anger people have experienced this year," Foote said. "I think that that anger and fear and pain was a little closer to the surface than I anticipated."

In one instance, a counterprotester took a "Make America Great Again" hat and set it on fire in the middle of the street. Others threw Trump signs into the fire, running into the street, stomping on the fire and dancing to music over a loudspeaker. Some vehicle passengers threw drinks out their windows onto Trump supporters.
Rickford likely will be unhappy if gets wind of this article; three years ago he penned a piece claiming news coverage of professors' provocative statements is a "technique of repression."
MORE: Rickford calls for general strike due to Trump election victory
MORE: Rickford says US engaged in genocide against black people
IMAGE: Twitter screencap
Like The College Fix on Facebook / Follow us on Twitter