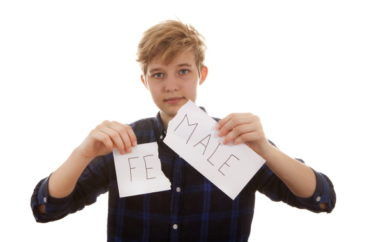 A Wisconsin state court has issued an injunction barring the Madison Metropolitan School District from deceiving parents about the gender identity their child has adopted at school.
According to an order by Judge Frank Remington of the Wisconsin 8th District Circuit Court, no school district may enforce a policy "that allows or requires District staff to conceal information or to answer untruthfully in response to any question that parents ask about their child at school, including information about the name and pronouns being used to address their child at school."
The injunction is in effect while a lawsuit against the district is on appeal.
The original lawsuit was filed in February by 14 anonymous parents from eight families. They are represented jointly by the Alliance Defending Freedom and the Wisconsin Institute for Law & Liberty.
The Madison school district garnered national attention in June of 2019 when an elementary school showed a video on transgenderism to students in kindergarten through fifth grade. In the video, science teacher Vica Steel comes out as transgender and says people who disagree are motivated by "fear" and "hate."
Included in the parents' lawsuit was an expert affidavit by Dr. Stephen B. Levine, a Distinguished Life Fellow of the American Psychiatric Association. In the statement, Levine argues it is important to shield young students from experimental therapies that could cause long-term mental and physical damage.
"In most cases, parental involvement is necessary for an accurate and thorough diagnosis of a child or adolescent presenting with gender dysphoria or a desire for a transgender identity, as well as for effective psychotherapeutic treatment and support of the young person," wrote Levine in his affidavit.
"It should go without saying that school district staff should be honest with parents, especially when it comes to critical matters concerning their children, but we are pleased that the court has issued an order now requiring it," said ADF Senior Counsel Roger Brooks in a statement following the injunction.
"As this case moves forward, we will continue to argue for our clients' legitimate concern over the Madison Metropolitan School District's policy of deceiving parents and excluding them from profound decisions involving the wellbeing of their own children," said Brooks.
But while the court approved the injunction halting the gender identity policy, it also denied a motion filed on June 25 to keep the identity of the plaintiff anonymous.
"Although the court understand [sic] why Plaintiffs desire to remain anonymous, anonymous plaintiffs effectively deny the Defendants and the Intervenors the ability to engage in discovery or to otherwise respond to the facts presented by the Plaintiffs in their motion as to the Plaintiffs themselves," wrote Judge Remington.
"By remaining anonymous and by asking this court to make evidentiary findings regarding irreparable harm or an adequate remedy unfairly deprives the Defendants a meaningful
opportunity to challenge Plaintiffs' factual assertions," wrote Remington.
The plaintiffs had argued remaining anonymous was necessary "to prevent retaliation against them for raising this sensitive issue."
MORE: Teacher: 'Dead naming' of transgender students a 'major problem' with virtual learning
IMAGE: Sandra Van der S/Shutterstock
Like The College Fix on Facebook / Follow us on Twitter