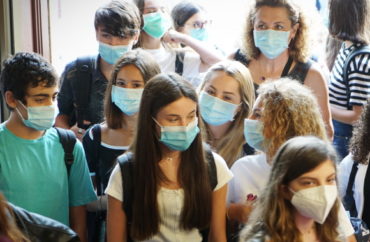 Julie Hartman, a senior at Harvard University, writes in a February 22 Wall Street Journal op-ed of the draconian COVID restrictions that persist at many elite campuses, adding her voice to the many now calling for a more moderate and sanity-protecting response.
But Hartman goes further, offering a deeper critique of the character of her peers that she sees revealed by the COVID regime. The restrictions, she wrote, are just another set of rules to which her fellow students unthinkingly submit to secure their place among the elite.
Hartman describes the Harvard administration's current safety measures, still "heavy-handed" for an student population that is overwhelmingly young and 98 percent vaccinated:
"Harvard has required students to get vaccinated and boosted and test for Covid twice a week, hectored us to wear masks nearly everywhere, and banned students from several communal spaces, including dining halls at one point, and from having informal campus gatherings indoors with more than 10 people. Most of my classmates lost nearly a third of their time on campus."
"The aggregate burden of these measures over two years," Hartman added, "combined with the discouraging realization that many of them do little to protect public health—has diminished our college experience."
Though many of her peers "acknowledge the excess," she wrote, "they shrug it off." Their "zombielike" response is in keeping with their lifelong training and the character they have formed to win prestige and success.
Since early in their education, these top students have been accustomed to obeying the rules of the gatekeepers – teachers, coaches, admissions officers and job interviewers – who hold the keys to the strongholds of the elite.
They're trained to follow complex instructions without asking for justification, whether it's for an AP assignment, an SAT prep course, or a college application.
On campus, Hartman wrote, "our tendency to conform hasn't gone away, especially as we pursue our next goal, whether at Goldman Sachs or in graduate school."
Her peers are primed to pursue their self-interest by obeying the dictates of the powerful, and the COVID rules are "simply requirements we tolerate to attain the next credential."
Hartman's observations echo those of an older generation of critics. Long before anyone had heard of COVID, thinkers like David Brooks, a New York Times op-ed columnist, and William Deresiewicz, a writer and former English professor at Yale University, had diagnosed the success-seeking conformity of elite college students, and suggested that this docility may come at the cost of freedom, virtue, or even the nobility of their souls.
Way back in 2001, Brooks wrote "The Organization Kid" for The Atlantic, in which he described the over-scheduled, credential-building busyness of Princeton students and their rule-abiding character. The students he observed were immensely productive and non-confrontational and "extremely respectful of authority, treating their professors as one might treat a CEO or a division head at a company meeting."
Brooks quoted Robert Wuthnow, a sociologist, who "lamented" that these undergrads "are disconcertingly comfortable with authority. That's the most common complaint the faculty has. … They're eager to please, eager to jump through whatever hoops the faculty puts in front of them, eager to conform."
While the COVID hoops, of course, had not yet been invented, the character of students that Brooks described is similar to the one that Hartman observes today.
Even more, Brooks wrote that "one sometimes has the sense that all the frantic efforts to regulate safety, to encourage academic achievement, and to keep busy are ways to compensate for missing conceptions of character and virtue."
Those missing ideals, Brooks wrote, are what students should work for, rather than unthinkingly submit to bureaucratic authority.
In his 2015 book "Excellent Sheep: The Miseducation of the American Elite and the Way to a Meaningful Life," William Deresiewicz formulates a similar critique of the elite student character. The term "excellent sheep" was coined by one of his students, Deresiewicz told Lauren Cassani Davis in an interview about his book.
"They're 'excellent,'" he said, "because they have fulfilled all the requirements for getting into an elite college, but it's very narrow excellence."
"These are kids who will perform to the specifications you define, and they will do that without particularly thinking about why they're doing it. They just know that they will jump the next hoop."
His successful students, like the ones Brooks observed, do not seem to be submitting to a worthy ideal or conforming for the sake of something higher — they are simply trying to get ahead.
But even when they submit to authority and succeed, these students lack the vision to do good with the power and prestige they have secured.
"You get to the top, or you get near the top, but you don't actually do anything interesting there—you just sort of fulfill your function in the organization," Deresiewicz said. "You don't initiate or create."
Hartman's appraisal of her Harvard colleagues is similarly dark.
"My peers and I are often told that we are the future leaders of America," she wrote. "We may be the future decision makers, but most of us aren't leaders."
"Our principal concern is becoming members of the American elite, with whatever compromises, concessions and conformity that requires. The inability of Harvard students to question or oppose these irrational bureaucratic excesses bodes ill for our ability to meet future challenges."
Brooks and Deresiewicz might respond that the ability to meet those challenges well requires the freedom to sacrifice for knowledge and truth, not status and security. Whatever one thinks the threat of COVID requires, unquestioning conformity to preserve one's status does not build the character of a virtuous leader.
If excellent sheep conform to arbitrary rules, excellent men and women know to submit only to that which is deserving of their freedom.
MORE: Georgetown COVID restrictions are nonsensical
IMAGE: Mike Dotta / Shutterstock
Like The College Fix on Facebook / Follow us on Twitter