OPINION: Georgetown's restrictions are so nonsensical that they seem spiteful
As I enter my last semester on the campus I love, Georgetown University, all I want is to spend quality time with my friends and enjoy a lively classroom discussion—is that too much to ask for on a college campus?
Apparently, it is.
Georgetown was one of the first schools to completely shut down campus due to COVID-19 in March of 2020. As the two year anniversary of the shutdown approaches, our administration is still acting like it's Day One.
Georgetown students and staff are mandated to get the vaccines and accompanying booster, yet students just completed the semester's first full week of classes fully online.
Georgetown's restrictions are so nonsensical that they seem spiteful.
While all campus facilities are shut down, the university curiously left housing open so that students are not entitled to any refund for their missed time, as they were during the fully virtual 2020-21 school year. This refund is significant when tuition alone is $60,000 each year. Instead, students are left paying the full cost without any of the benefits of a campus. Apparently the virus spreads in classrooms but not dorm rooms.
In defense of maintaining the maximum tuition rate despite the shutdown, Georgetown Provost Robert Groves claimed "campus will be open and functional during this period."
This assertion is laughable. The quality of a campus where the classrooms, student centers, gym and dining hall are shut down is obviously near zero, but by making a return to school "optional" the university can maximize profits at students expense.
The school also makes a tremendous amount of money from its historically good basketball program, so students are allowed to attend the games in droves but cannot sit in class. The university's priorities are clear, and they are not public health or students' interests.
Additionally, for all students who do choose to return to the barren campus, Georgetown requires a rapid test—notoriously inaccurate compared to PCR tests—and evicts them into a forced 10-day quarantine if they test positive. Students are given no chance to retest in case of a false positive and even the CDC down the street in D.C. has shrunk the quarantine recommendation to five days.
In their email detailing these guidelines, the university includes an "Isolation Reminder," as if students needed that. This section emphasized the lengthy quarantine even for rapid tests and guaranteed contact from the Orwellian "Care Navigator team" to push the process along.

It is difficult to comprehend how destructive the repeated shutdowns have been for us few students unfortunate enough to go to schools that refuse to open.
In an interview with The College Fix, senior John Figge remarked, "I have friends who have been in school since fall of 2020. Do we not have the resources these other schools have, or does Georgetown not care about having students on campus? I feel robbed of my college experience."
Likewise, junior Emma Wahl laments, "my Georgetown career has been majority virtual." And that virtual experience is so inferior that freshman Andrew Deeves described it as "a glorified video conference."
Amid the closures, the library has been the one building remaining open, but requires social distancing and has also banned all eating or drinking. Students are forced to check in their personal water bottles as they enter, lest they be tempted to sip while studying.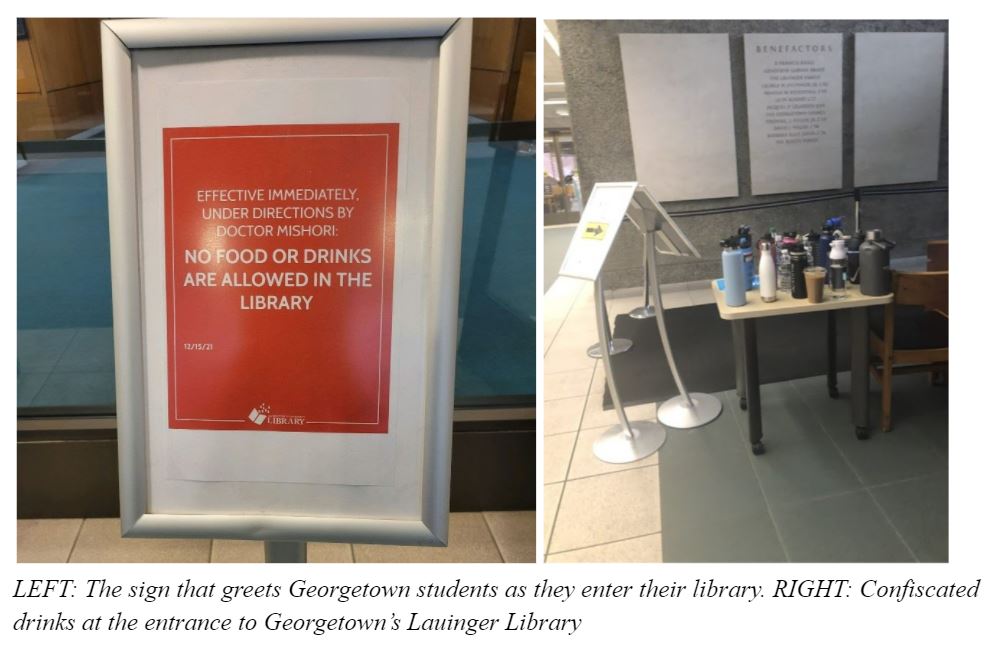 Beyond the absurd policies, the hypocrisy of university officials adds to the sting for students.
Dr. Ranit Mishori, Georgetown's Chief Public Health Officer and the architect of the endless restrictions, posted a picture of herself attending a show at the Kennedy Center four days after mandating all student events "need to be moved outdoors or canceled." She captioned her photo "Living dangerously." It has since been deleted.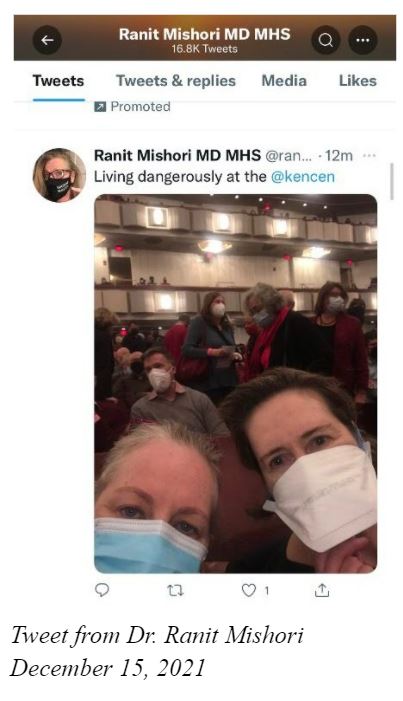 With my final months in college, I want to again see the passion on my professors' faces. I want to study with classmates around a table, not across the room. I want to host friends for dinner without violating university social distance rules. These policies break my heart and I can only hope Georgetown does the right thing and reverses course soon.
The views in this article do not represent those of the Department of Defense or the United States Army.
MORE: Despite 95% vaccination rate, Cornell today has five times more COVID cases than it did this time last year
IMAGES: via Dalton Nunamaker
Like The College Fix on Facebook / Follow us on Twitter