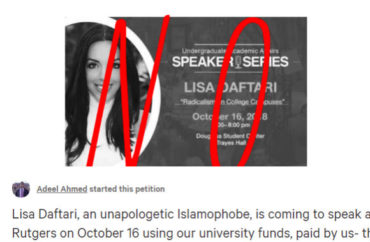 University caved to 'students who slandered my good name based on falsified quotes'
Rutgers University spent last week refusing to explain why it "postponed" a university-sponsored event with the Iranian-born journalist Lisa Daftari, an outspoken critic of radical Islam opposed by some students.
Though the state university has since contacted her to "clear up any confusion regarding your invitation" and offered Daftari new dates to speak on campus, she's not satisfied with the response or the timing of the offer.
Daftari told The College Fix in an email Tuesday that the university "share[d] our correspondence publicly without my knowledge" and called the new offer "an insincere, last-minute PR attempt to mitigate the appearance of bias."
Rutgers didn't look into "baseless allegations and falsified quotes" – apparently referring to the Change.org petition branding her an Islamophobe – before "unilaterally" canceling the event, she wrote.
It only offered her new dates because of "considerable media and campus attention," she said: "The real question is, why did the university 'postpone' the event giving off the impression that they submitted to a slanderous petition if there was any genuine intention to reschedule the talk?"
'Behavior that is rewarded gets repeated'
Daftari shared her reply letter to Vice Chancellor Ben Sifuentes-Jáuregui, who had offered her four dates next month to speak to make up for her postponed Tuesday event.
Their previous correspondence clearly communicated that "the university unilaterally decided to cancel the event," she wrote:
To come back after the damage has been done to my reputation and suggest that this was some misunderstanding and to continue with the premise that the event was merely postponed, lacks the integrity and respect that I would have hoped for from my alma mater.

Just as the university was sensitive to the concerns of a group of students who slandered my good name based on falsified quotes, I would hope that the university would now demonstrate the same level of consideration as we move on.

I wish you and the Rutgers community much success in all your future endeavors.
MORE: Rutgers yanks lecture following 'Islamophobe' petition
Outside observers are also not satisfied with the university's response.
The Foundation for Individual Rights in Education has concluded that "she was disinvited," Zach Greenberg, program officer in FIRE's Individual Rights Defense Program, wrote in a statement provided to The Fix.
"This is problematic because universities should be places that promote the free exchange of ideas," he said. "A university would best serve its student by allowing them to engage with a wide array of speakers, even those that some or many find objectionable":
When universities disinvite controversial speakers, they display a disturbing disdain for the intellectual capabilities of its students, many of whom would welcome a chance to listen to and question their ideological adversaries.

Behavior that is rewarded gets repeated. There will be a continued push for disinvitations until colleges stop giving into these demands.
FIRE maintains a "disinvitation database" that tracks rescinded offers to speak – including from teaching positions – and where the pressure came from to disinvite.
This incident has not been added yet, but Rutgers is already listed in the database four times. Two of those – against former George W. Bush official Condoleeza Rice and Rutgers Prof. Mazen Adi – were successful.
Same privately endowed fund that paid for Snooki
A counter-petition is circulating on Change.org, about 200 signatures behind the original, that also claims the public university unilaterally canceled Daftari's talk.
It was submitted by the Rutgers chapters of Young Americans for Liberty, Young Americans for Freedom and College Republicans, as well as the conservative student newspaper The Centurion. The petition explains why the anti-Daftari petition was "intellectually dishonest," correcting and adding context to the supposedly Islamophobic quotes she gave.
It said her event was not funded by students but by a privately endowed lecture fund that has also paid for events with Democratic national politicians and even Jersey Shore cast member Snooki (below):
Lisa Daftari is a recognized foreign policy expert who has spoken at the UN on pressing international issues –  her intellect, accomplishments, and Rutgers alumna status make her a worthy speaker. …

If students have a problem with what Daftari has said, they should have registered to go to her event instead of signing a dishonest petition. …

Rutgers students have shown their own bigotry by calling Daftari, an Iranian-American woman, a "cockroach" and "bitch" instead of engaging with her ideas. It is disgraceful that Rutgers bureaucrats have cancelled her event.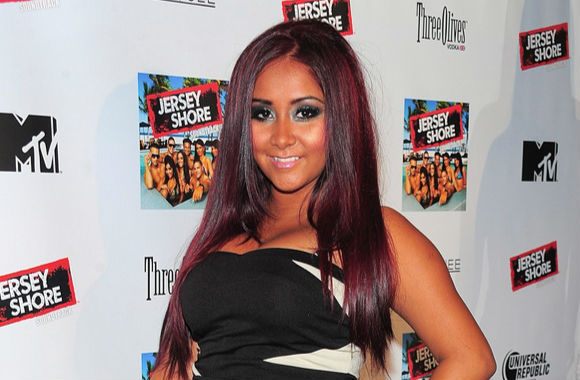 MORE: 'Snooki' bill moves forward in New Jersey
IMAGE: Adeel Ahmed/Change.org, Everett Collection/Shutterstock
Like The College Fix on Facebook / Follow us on Twitter