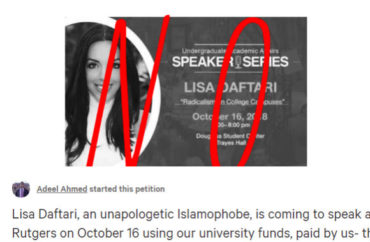 UPDATED
Rutgers University has "postponed" a planned lecture by an outspoken critic of radical Islam after students launched a petition demanding her disinvitation.
Iranian-born journalist Lisa Daftari, an alumna of Rutgers, was slated to speak Tuesday on "Radicalism on College Campuses" as part of the Rutgers Undergraduate Academic Affairs Speaker Series.
The UAA initially resisted calls for the event to be canceled, saying the point of the speaker series was to "spark a dialogue" about both academic and cultural issues.
Daftari has disputed the university's characterization of her event as postponed, saying officials have canceled it altogether.
She's received support from a Republican congressional candidate and Rutgers alum, Daryl Kipnis, who claims Daftari was his classmate.
In a Friday evening tweet, Kipnis said he was "very disappointed but not surprised" by the university's alleged cancellation. "Taxpayer-funded schools shouldn't be radical Leftist #EchoChambers that shut out conservative voices. #WalkAway," he wrote.
The Rutgers administration has refused to elaborate on why Daftari's lecture won't take place Tuesday. A spokesperson simply reiterated to The College Fix that it decided to "postpone" the lecture, and "the university will continue to go forward on events that reflect a wide variety of perspectives."
Asked whether the postponement means the university plans to reschedule it, spokesperson Neal Buccino said in an email Friday that "the University has no further comment at this time."
Three days later, Director of Public and Media Relations John Cramer contacted The Fix to "eliminate any confusion" about Rutgers' intention with Daftari. In an email, he wrote:
The University has offered several dates for her to come to campus in November. The University's position on the free exchange of ideas is clear; the ability to respectfully present, discuss and debate matters in the public interest is at the heart of what every great university does. Such free and respectful discussion is fundamental to Rutgers' core values and is practiced every day at Rutgers.
Very disappointed (but not surprised) that my alma mater #Rutgers disinvited my friend and fellow RU classmate @LisaDaftari from speaking. Taxpayer-funded schools shouldn't be radical Leftist #EchoChambers that shut out conservative voices. #WalkAway https://t.co/kwF9gpQNov

— Daryl Kipnis For Congress (@Kipnis4Congress) October 12, 2018
Petition misquotes Daftari
Daftari founded the news website The Foreign Desk, which says its reporting emphasizes "human rights, global security and U.S. foreign policy." She is a former producer for NBC's investigative unit in Los Angeles and currently serves as an on-air political analyst for Fox News.
The student backlash against hosting Daftari began with a Change.org petition last week launched by Rutgers student Adeel Ahmed, who called the journalist a "unapologetic Islamophobe."
Ahmed misquoted a statement that Daftari made at the Heritage Foundation as the source for his petition claim.
The student claimed that Daftari said "Islamic terror takes its guidance and teachings from the Quran, which is Sharia law." Video of the event shows Daftari said Islamic terror "claims" to take its guidance and teachings from the Quran.
Daftari's next quote from the event was: "When you go to the mosque and you're part of a community, and you want to feel important and relevant, and want to give back to the cause – [ISIS] recruits you. You say – I can be an ISIS wife.'"
The cited quote was part of an answer to a question from an audience member, who asked Daftari about the "radicalization of women" within Islam.
Daftari answered by noting that those women will think "how can I serve my religion," and if "my husband is a jihadi, why can't I be a jihadi?" before continuing into the quote cited in the petition.
According to Ahmed, this statement shows Daftari "is undoubtedly hate-mongering" because she is "equating Muslims everywhere with ISIS." This is just a "small sample of the type of harmful rhetoric Daftari has advanced and shared on various media platforms."
The petition was approaching 1,700 signatures as of Sunday evening.
MORE: Rutgers student fired from campus paper after writing 'illegal alien'
Resolution hasn't been made public
But Ahmed's petition was not the only pressure the university faced. The Rutgers University Student Assembly denounced the event in a resolution passed Thursday, which The Daily Targum called "impromptu."
It was proposed by RUSA member Jhanvi Virani, who chairs the Student Affairs Committee. The Muslim Student Association, Latino Student Council and Muslim Public Relations Council helped the committee write the bill, according to the Daily.
The legislation isn't posted on the assembly's website, which is months out of date. It's not mentioned in the assembly's social media feeds either. Its most recent post was Oct. 10 on Instagram.
Virani said the bill formally objects to the event because it was university-sponsored and hence partly funded by student fees. But the bill also "endorse[s] any opposition event that happens at the same time as the speech in an effort to take attention away from the UAA event," the Daily paraphrased Virani.
The Muslim Public Relations Council, in addition to assisting Virani, also authored an op-ed accusing Daftari of engaging in "orientalist and reductionist ideas."
The op-ed said that Daftari does not believe that Islamophobia exists and that such an idea "denies the legitimacy and validity of the hate and violence that Muslims experience on a daily basis, on and off campus."
MORE: Blood paint, vandalism greet Yiannopoulos at Rutgers
'Public relations talk for a cowardly cancellation'
Before the event's purported postponement, the Rutgers UAA said it had read concerns from students but had yet to meet with them.
In an Oct. 9 tweet, UAA said the speaker series brought people of "varying backgrounds and professional expertise" to campus, and is designed to let "all participants" share their views and generate a "public debate about important issues."
Daftari told the UAA that her talk would focus on "free speech" and discuss how to use campuses "as a place of learning" rather than "violence, hatred, and radicalism" in the sense of "polarizing or extreme views," according to UAA. Only the first half hour of the event would be reserved for Daftari's lecture, UAA said.
UAA also included a statement from Vice Chancellor Ben Sifuentes-Jáuregui. He said the "dissent" from students meant the speaker series was fulfilling its purpose of engaging in "tough conversations."
"If these issues are not brought to the forefront and given a chance to be debated, then they may continue to stay buried," Sifuentes-Jáuregui said.
UAA has received and responded to students, faculty, and staff who have reached out to us about the Speaker Series event next week. Additional details about the event: pic.twitter.com/CwSVSXTy7h

— RutgersUAA (@RutgersUAA) October 9, 2018
In a Friday afternoon tweet, Daftari said Rutgers told her the event was indeed canceled. Its claim of postponement was just "public relations talk for a cowardly cancellation."
She received an outpouring of support on Twitter from other conservative personalities. Political commentator and fellow Fox News contributor Monica Crowley called the university's action "another nail in the coffin of the 'marketplace of ideas.'"
In a statement to The Daily Caller News Foundation, Daftari called the cancellation "very upsetting" and said she had been "looking forward" to going back to her alma mater to give a talk on freedom of speech.
"The campaign launched against me was unethical and defamatory," she said, "and in the end, I didn't even get a chance to defend these dishonest and slanderous allegations. I was only silenced."
Daftari did not respond to a Fix request for comment Sunday.
MORE: Liberals' protests prompt Condi Rice to withdraw as Rutgers grad speaker
LET'S BE CLEAR- this was not a "postponement"- that is public relations talk for a cowardly CANCELLATION. @RutgersU told me the event was canceled.

— Lisa Daftari (@LisaDaftari) October 12, 2018
Cramer, the second Rutgers spokesperson, forwarded The Fix the text of an invitation from Sifuentes-Jáuregui to Daftari that he said was sent Monday afternoon.
"I want to write to clear up any confusion regarding your invitation to speak at the University," the vice chancellor told the journalist. "To the degree that I may have contributed to the confusion, I hope you will accept my apology."
Daftari is "welcome to speak here" on four proposed dates in November, he said, asking if any "can be accommodated in your schedule":
I am certain that in the course of your comments and follow-up questions from our students, your views will be fully articulated and will generate respectful and vigorous discussion both by those who agree and those who disagree with those views.

Our position on the free exchange of ideas is clear; the ability to respectfully present, discuss and debate matters in the public interest is at the heart of what every great university does. Such free and respectful discussion is fundamental to Rutgers' core values and is practiced every day at Rutgers.
MORE: Rutgers near bottom of the list for viewpoint diversity
UPDATE: A second Rutgers spokesperson contacted The Fix on Oct. 15 to "eliminate any confusion" about whether Daftari would be invited back. He included a message from the vice chancellor to Daftari offering her four possible dates in November. The material has been added.
IMAGE: Adeel Ahmed/Change.org
Like The College Fix on Facebook / Follow us on Twitter