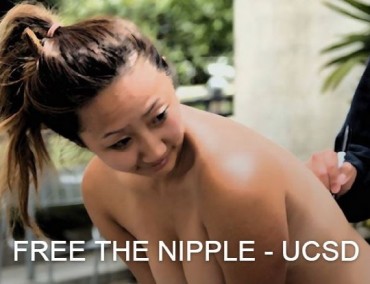 A crowd of female UC San Diego students took off their shirts and bras and hung around a grassy quad with their breasts exposed Wednesday in a protest against indecency laws.
The coeds were joined by male students as well in a 30-minute demonstration dubbed "Free The Nipple." Dozens of students took part. Organizers provided snacks, water, music, body paint and masks for "those who want to participate but conceal their identity," according to an event flier.
The rally took place on a campus that neighbors a public beach that allows nudity. The sit-in was advertised as a chance to challenge "social norms and show everyone that changing the world is as simple as taking off our shirts."
"Why is it OK that boys can do it but I can't," protest co-organizer Anni Ma said in a promo video. "It shouldn't be illegal. It should be my choice to do what I want to do."
Ma added her breasts aren't "sex organs," so they should not be regulated by indecency laws.
Various images from Wednesday's protest show many students took off their shirts and were naked from the waist up. Others kept their bras on or covered their nipples with body paint. Phrases such as "still not asking for it" and "TITS: Sorry, did I offend you?" could be seen on signs and backsides. Some students remained dressed but hung out with demonstrators in solidarity with their cause.
"Typically nudity in public spaces violates San Diego municipal codes and UCSD student code of conduct, but the university [said] they support the students and their First Amendment rights," reports ABC News.
UCSD student Aubrey Oxley told The Guardian campus paper society pressures women to cover up.
"Men actually had to cover up their nipples, as well, but that law changed. If you look back into centuries, past women couldn't even show their ankles because ankles were sexualized," Oxley said. "We live in a very misogynic society where women's bodies are hypersexualized, and this [movement] is the first step [away from that]."
The event's Facebook page adds the main focus is "to combat the idea of body shaming, to show that we should be proud of our bodies, and to normalize all nipples in a society where only female nipples are hyper-sexualized and criminalized."
UCSD is the same campus thrust into the national spotlight last week for offering a class that includes a final exam in which students strip naked.
Like The College Fix on Facebook / Follow us on Twitter
IMAGES: screenshots