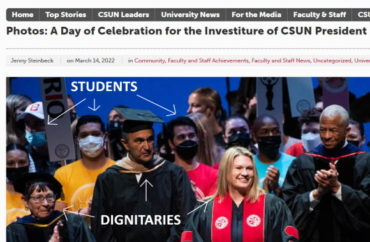 UPDATED
'While Los Angeles County Department of Public Health has relaxed its indoor mask requirement, at this time, CSUN plans to maintain indoor mask requirements for all students, faculty and staff, regardless of vaccination status, throughout the spring semester'
Multiple dignitaries recently failed to wear masks during an indoor investiture ceremony at California State University, Northridge despite mask requirements, photos of the event show.
The university held an investiture ceremony March 14 for CSUN's sixth president, Erika Beck, at the performing arts center at the Los Angeles-based public university.
While Cal State Northridge requires masking indoors, pictures posted on CSUN Today and the university's official Twitter page show several notable individuals not wearing masks at the event.
"California State University, Northridge held its investiture ceremony for its new incoming president and proudly posted photos on its Twitter feed showing unmasked high-level administrators indoors, while students and visitors are still under strict university orders to wear masks indoors," a CSUN source who wishes to remain anonymous told The College Fix in a Mar. 15 email.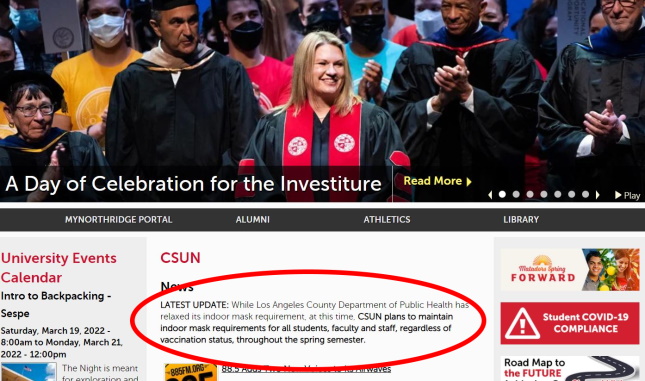 One photo shows Beck and other CSUN dignitaries not wearing masks as they stand in front of masked students, alumni and other attendees.
Unmasked individuals include CSUN President Emerita Jolene Koester, prominent CSUN alumnus David Nazarian, President Beck, CSUN Foundation Board Chair Robert Taylor and CSU Acting Chancellor Steve Relyea.
CSUN also retweeted a post by Ellen Neufeldt, president of California State University San Marcos, with a picture of Neufeldt and another individual maskless inside the theater.
Ravi Rajan, president of Cal Arts, also posted a picture that show a fleet of top officials maskless while students in the background wore masks.
Congrats  to Dr. Erica Beck on her investiture as President of @csunorthridge — the 4th woman leader in a row for CSUN. And great to see @CalArts alum @tinaraymonddrms in action as Director of Jazz Studies here. CalArtians everywhere! pic.twitter.com/slIlOGl0E4

— Ravi S. Rajan (@_RaviRajan) March 14, 2022
"Will anyone call attention to the pointless forced masking of students and everyone indoors on campus that continues despite statewide pullbacks of restrictions? And why is the university proudly displaying its open defiance of its own orders," the CSUN source asked in their email to The College Fix.
Although the California Department of Health no longer requires masks in higher ed institutions, CSUN is one among many California colleges prolonging its mask requirements on campus.
"While Los Angeles County Department of Public Health has relaxed its indoor mask requirement, at this time, CSUN plans to maintain indoor mask requirements for all students, faculty and staff, regardless of vaccination status, throughout the spring semester," CSUN's main webpage states.
CSUN president's office did not respond to The College Fix's request for comment.
Editor's note: On Monday afternoon, after publication, the university provided comment. Below is its statement in full:
The Soraya currently requires that event guests be vaccinated and wear masks, unless they are eating or drinking in designated areas. Though attendance was below the 1,000 threshold that would qualify for "mega event" status, the Soraya required all guests of CSUN's Investiture to show proof of vaccination or negative testing, consistent with LACDPH guidelines for mega events. Additionally, presently in LA County, masks are recommended for audience members, but not required. However, the Soraya required masks for audience members out of an abundance of caution.

With regard to the event speakers, they are considered event performers. Event performers are not required to wear masks, given their need for movement, vocalization and the fact that they are generally distanced from audience members. Like the speakers, the student performers (dancers and musicians) who were part of the event appeared onstage unmasked.

Additionally, consistent with higher education protocols for performing artists, the 13 speakers were COVID-tested approximately two hours prior to the event and the student musicians and dancers were also COVID-tested less than 24 hours prior to the event. The testing requirement for all event performers was in addition to requirements that participants be vaccinated and boosted.

The students who stood behind the speakers of the platform party briefly at the beginning of the ceremony were part of the procession. As such, their participation was compliant with the guest protocols previously mentioned as opposed to protocols required of the speakers,
musicians and dancers. In addition, these students stood closer to one another than the other performers, both while they were in line and during their time on stage. For these reasons, they were required to continue wearing their masks.
MORE: UW-Madison chancellor indoors without wearing mask in violation of COVID mandate
IMAGES: CSUN website screenshots
Like The College Fix on Facebook / Follow us on Twitter