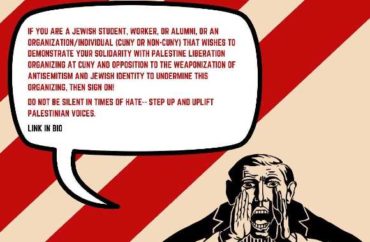 Jewish groups clash over anti-Zionist organization's alleged antisemitism
A Jewish group at the City University of New York pledged to get the Jewish student population to "unlearn" its Zionism and create "their own Jewish identity" in solidarity with the Palestinian liberation activists and the Boycott, Divestment and Sanctions movement.
The group, which calls itself "Not In Our Name: An anti-Zionist Jewish Coalition at CUNY," denounced Zionism within the university system and challenged the relationship between Zionism and Judaism. It also "wholeheartedly" endorsed the BDS movement, according to a statement and a July 13 Jewish News Syndicate report.
The pro-Palestine activist organization wrote that the Zionist movement within CUNY "aims to criminalize and demonize Palestinian students and workers" and stated that Israel is a "settler colonial aparteid regime." The group promised to "create networks and programs within the CUNY Jewish population to question, critique, and unlearn Zionism so they may form their own Jewish identity."
Thirty-nine Jewish students and professors within the New York public higher education system along with 26 nonaffiliated signed the document to demonstrate their support for Palestinian activism at CUNY and for the group's rejection of the International Holocaust Remembrance Alliance's working definition of antisemitism, according to the statement.
Not in Our Name did not return a request for comment from The College Fix.
Jewish leaders and Israeli advocates criticized the proposal in statements to The Fix.
Other Jewish CUNY groups call the group antisemitic
Critics of the activist organization said the group's statement is antisemitic and endangers Jewish students throughout CUNY.
"NIONCUNY is a racist group of Jews who hate Jews," Jeffrey Lax of Students and Faculty for Equality at CUNY, or SAFE CUNY, a Zionist advocacy group, told The College Fix via email.
At least four of the statement's signatories are delegates in the public university's Professional Staff Congress, the union representing CUNY's more than 30,000 faculty and staff, which also includes thousands of Zionists.
"The President and each of these delegates are free to have their racist beliefs, but in keeping them, they must step down from the union immediately, as they do not and cannot possibly represent the thousands of Zionist Jews at CUNY," the spokesperson said.
The organization told The Fix that university officials "should also take steps to quash this hate, but we sadly have seen quite the opposite: CUNY prefers to support and enable it."
The American Jewish Congress also sent a letter to CUNY Chancellor Félix Matos Rodríguez on July 19 to condemn the group's activities "in the strongest possible terms" and to urge the chancellor to intervene immediately.
"Life for Jewish Students throughout CUNY institutions continues to come under fire, and NIONCUNY's inflammatory rhetoric, expressing a plan to get the CUNY Jewish population to 'unlearn Zionism,' is simply another chapter in the damning saga," Akri Cipa, a spokesperson for the organization, told The Fix via email.
"From antisemitic speakers to the promotion of BDS, and openly biased faculty, this perpetuating cycle against Jews at CUNY must be called out," Cipa continued.
Cipa said it has not received a response from Rodríguez, or any other official from the CUNY administration, regarding their letter on NIONCUNY's statement.
'Not In Our Name' condemns popular Jewish organization Hillel
Not In Our Name included Hillel, the largest Jewish campus organization in the world, as an example of an organization that suppresses free speech and furthers systemic racism. The group's statement calls Hillel "a known anti-Black, anti-Indigenous, Islamophobic, and anti-Palestinian organization, which furthers the vulnerability of these racialized communities already battling systemic racism at CUNY."
"As a faculty member closely involved with Jewish students and Jewish organizations at Brooklyn College, I know of no evidence to back up these charges. To vilify the single most important Jewish student organization at CUNY is an attempt to deprive Jewish students of their ability to organize and have a voice on campus," David Brodsky, chair of the department of Judaic Studies at Brooklyn College, CUNY, told The Fix via email.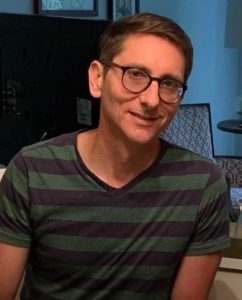 Not In Our Name stated in its issued declaration calling for signatures that "we wholeheartedly denounce any attempts to equate Zionism to Judaism or Jewish life" and "we must stand against all attempts to equate anti-Zionism with antisemitism."
The Fix asked Brodsky (pictured) about the attempt to separate Zionism and Judaism made by Not In Our Name.
"While not all forms of anti-Zionism engage in classical antisemitic tropes, to claim that 'all attempts to equate anti-Zionism with antisemitism' are illegitimate is to deny the simple fact that some forms of anti-Zionism engage in antisemitic tropes," Brodsky said.
Brodsky said he attended conferences and teach-ins organized by some of the signatories to NIONCUNY's statement in which "classical antisemitic tropes were integral to the lectures."
Brodsky said he was disturbed by the statements that call for "resistance by any means necessary" and "the return of all land prior to 1948" and the declaration that "these principles are not negotiable."
"This statement was not the first time I have heard them advocate this position. They have repeated it at several of the conferences I attended last year. I personally have had to think twice about the safety of my students, faculty, and staff as a result of these calls as I scheduled our return to in-person classes," he said.
"Put simply, they are not advocating for peaceful coexistence or for a peace process, but rather for the complete eradication of Israel."
Benjamin Balthaser, an associate professor of multi-ethnic U.S. literature at Indiana University in South Bend, is a supporter of Not In Our Name CUNY and one of the non-CUNY signatories of the statement.
He told The College Fix in an email that the group is an "important avenue to support democracy in Israel and Palestine, as well as a means to reclaim Jewish life from the increasingly narrow confines that organized pro-Israel organizations, from AIPAC to the ADL, have forced on the Jewish community."
Balthaser said supporters of Israel on college campuses have created a threatening climate for faculty, students and staff who express support for Palestinians and the BDS campaign. Referring to the IHRA working definition of antisemitism, he said organized supporters of Israel use a "controversial definition of antisemitism" to suppress free speech.
Other signatories of Not In Our Name CUNY did not respond to requests for comment from The Fix on why they gave their endorsement for the group.
MORE: CUNY professor says Muslims will 'erase' the 'filth' of Israel
IMAGES: @NIONCUNY/Twitter, David Brodsky
Like The College Fix on Facebook / Follow us on Twitter