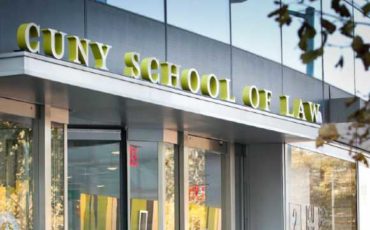 The state university is becoming 'an enforcer of ideological conformity,' professor wrote
A City University of New York professor believes the public university is on the path to becoming a "re-education center" for anti-Israel ideology according to a recent opinion piece and comments made to The College Fix.
Professor Azriel Genack's comments come in response to anti-Israel sentiment on campus, including a resolution CUNY School of Law passed in support of the Boycott, Divestment, and Sanctions movement, which was later endorsed by the faculty union.

"The demonization of Jews as interlopers who grasp what they are not entitled to, has been used to nurture grievances and build cohesion in movements through the ages," physicist Azriel Genack (pictured) wrote in The Algemeiner June 29.
The student government at the CUNY School of Law adopted the resolution in December 2021 endorsing the BDS movement, and the faculty union endorsed it in May 2022.
"The unceasing military occupation and colonization of Palestine by the Israeli state is a manifestation of both settler colonialism and structural racism, supported politically, financially, and militarily by the U.S," according to the resolution.
"The student government's impressively researched boycott resolution covers six pages, with 20 paragraphs of accusations against Israel and 26 footnotes," according to an analysis in The Hill by Northwestern University's Steven Lubet. "It protests every conceivable university connection to Israel, from using Dell computers (because CEO Michael Dell 'is an Israel backer'), to free tuition for NYPD officers (because of their exchange programs with Israel), to serving Sabra hummus."
MORE: New York professors sue to stop forced dues extraction by 'anti-Israel' union
The College Fix asked Genack why he thought CUNY Law students and faculty felt the need to endorse the BDS movement and oppose Israel.
Genack wrote:
The ideological antipathy towards Jews is so strong that a single individual educated to hate Jews and Israel can be honored and revered to the extent that that person can lead an entire school within CUNY to call for the exclusion of Jews from their precincts and for the destruction of Israel.
"I believe indoctrination is not just about nurturing anti-Israel sentiment, he wrote in his email to The Fix. "The war against Israel is also a war against reason and tolerance. It is also not strictly about CUNY but about Western civilization. Painting Jews, or now Israel, as beyond the pale has been key to building movements and ideologies of grievance for millennia," he wrote.
The Fix reached out to the communications staff at CUNY Law to ask more about its reasoning behind supporting BDS.
A media representative responded via email that the endorsement was passed by the faculty, "a matter they voted on as individuals," and declined to comment further.
In endorsing political movements, according to Genack, the university faculty is betraying its mission of pursuing the truth.
"This places CUNY on a trajectory of becoming a re-education center rather than a center of learning and discovery, an enforcer of ideological conformity rather than a battleground of ideas, and a force for exclusion rather than inclusion," he wrote in his op-ed.
State executive order prohibits public investment in BDS, CUNY chancellor said
CUNY does not and, legally, cannot officially endorse the BDS movement and its activities, according to a May 30 statement by CUNY chancellor Matos Rodriguez. .
Rodriguez cited a 2016 New York City executive order from then-governor Andrew Cuomo. The resolution "directs State entities to divest all public funds supporting the Boycotts, Divestment and Sanctions campaign against Israel."
The purpose is to ensure that state entities are not "engag[ing] in or promot[ing] any investment activity that would further the harmful and discriminatory Palestinian-backed Boycotts, Divestment and Sanctions (BDS) campaign in New York State."
"The [CUNY faculty resolution] also calls on the University to end all academic exchange programs with Israel," Rodriguez wrote in his statement. "That is contrary to a university's core mission to introduce students to a world that can be vastly different from their own, through international exchange programs and other academic experiences, and to encourage them to engage a range of opinions and beliefs."
"I welcome [Rodriguez's] statement," Genack told The Fix.
Genack said that the CUNY Alliance for Inclusion has written to Rodríguez asking to meet with him.
The CUNY Alliance for Inclusion recognizes Israel's right to defend itself, promotes academic freedom, and documents the hostility Jewish students and others at CUNY have experienced, according to its website.
"[Rodríguez] has so far not responded or even acknowledged our correspondences," Genack said.
MORE: Councilwoman yanks $50K in funds from CUNY Law over BDS resolution
IMAGES: The City University of New York, Azriel Genack
Like The College Fix on Facebook / Follow us on Twitter