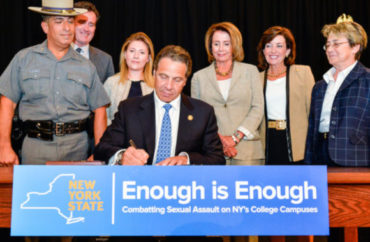 ANALYSIS: New York governor currently under fire for sexual misconduct signed a bill defining 'affirmative consent' at state colleges
This week, embattled New York Gov. Andrew Cuomo apologized to three women — including two former aides — who accused him of sexually harassing them, including engaging in unwanted touching and kissing.
Cuomo said he was "embarrassed" by the allegations, adding that he has "learned from what has been an incredibly difficult situation for me as well as other people."
But years ago, it was Cuomo that boasted of protecting women from sexual predators on the state's college campuses.
In July 2015, surrounded by a table full of female elected officials that included Democratic House Leader Nancy Pelosi, Cuomo signed a bill he claimed combatted sexual assault at New York colleges and universities.
"Today, New York is making a clear and bold statement: sexual violence is a crime, and from now on in this state it will be investigated and prosecuted like one," said Cuomo upon signing the bill.
"With this law, we will better protect every student that attends college within our borders, and I am proud New York is leading the way once again," Cuomo boasted.
"Today is a tipping point day, and I was proud to stand with Governor Cuomo as he signed into law a strong tool for all the educators, administrators and women fighting to end campus sexual assault once and for all," Pelosi said at the time.
Cuomo later co-wrote an op-ed with pop singer Lady Gaga boasting of his accomplishment and indicating the need to protect women from sexual predators.
"Unfortunately, for thousands of these students that dream turns into a nightmare because of the unacceptable epidemic of sexual violence that is currently plaguing colleges and universities," wrote Cuomo and Gaga. "It is a shocking reality that many in academia, government, and society in general still refuse to acknowledge," they wrote.
"Making a bad situation worse, college officials sometimes fear negative publicity against their school if assaults are reported to the police," the duo wrote. "Instead of involving law enforcement, these cases are often handled as campus disciplinary issues and many offenders avoid meaningful consequences."
But it is now Cuomo facing consequences, as a growing chorus of New York elected officials is urging Cuomo to step aside.
In his press conference this week, Cuomo attempted to differentiate between his actions and more serious sexual assault, saying twice that he never "touched anyone inappropriately."
"I never knew at the time that I was making anyone feel uncomfortable," he said. "And I certainly never meant to offend anyone or hurt anyone or cause anyone any pain. That is the last thing I would ever want to do."
According to former aide Lindsay Boylan, Cuomo frequently made sexual comments and once kissed her on the lips without her consent. Former 25-year old aide Charlotte Bennett said Cuomo had asked her about her love life and indicated an openness to dating a woman in her 20s. A third woman, Anna Ruch, said she had met Cuomo at a wedding reception where he put his hands on her bare back, then cupped her head with his hands and asked if he could kiss her. Ruch's allegation was accompanied by a photo of Cuomo holding her head in his hands.
Yet during his press conference this week, Cuomo urged he be given due process, telling the public to "to wait for the facts" to some to light.
But in 2015, at the time of Cuomo's Enough is Enough bill, schools were operating under the influence of a 2011 directive by the Barack Obama-led Department of Education to lower the standard of evidence needed to convict students of sexual misconduct. This lower standard was eventually rescinded by Education Secretary Betsy DeVos during President Donald Trump's administration.
Among other things, Cuomo's bill set "a uniform definition of affirmative consent, defining consent as a knowing, voluntary, and mutual decision among all participants to engage in sexual activity," and implemented comprehensive training requirements for administrators, staff, and students.
At the same time he faces sexual misconduct allegations, Cuomo is also in the midst of a scandal in which he is accused of covering up data and underreporting nursing home deaths in New York due to the coronavirus.
After criticizing Cuomo for his coronavirus response, Democratic Assemblyman Ron Kim of Queens said the governor had called him and threatened to "destroy" him.
"He has abused his powers," Kim later said. "And abusers are cowards."
In 2020, Cuomo's brother, CNN host Chris Cuomo, joked with the single governor, calling him the "Love Gov."
"I've always been a soft guy," Gov. Cuomo responded. "I am the Love Gov. I'm a cool dude in a loose mood. You know that. I just say let it go. Just go with the flow baby."
MORE: New York proposes making drunk sex a crime, not just a campus violation
IMAGE: New York Governor's Office
Like The College Fix on Facebook / Follow us on Twitter