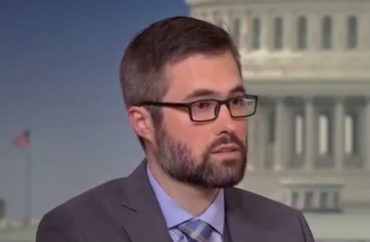 'Simply inaccurate' to say he approves of political violence
Mark Bray says political violence is justified against certain groups.
The Dartmouth University history lecturer is not saying this privately or describing the historical use of political violence: He's advocating it in media interviews while promoting his admittedly sympathetic new book about the left-wing terrorist movement Antifa.
But when his university president publicly criticized Bray's expressed views, saying "the endorsement of violence in any form is contrary to Dartmouth values," Bray's faculty peers rushed to his defense.
More than 100 faculty have signed a statement that praises Bray as "the national expert" on fascism and anti-fascism in the 21st century, according to a Monday report in The Chronicle of Higher Education, which says faculty names were not on the letter it was shown.
The statement says, bafflingly, Bray's accurately reported words in media appearances are "simply inaccurate."
It also raises a straw man, that Dartmouth has threatened Bray's job by criticizing his accurately reported views: "There is nothing that Professor Bray has said that is in violation of Dartmouth's stated free speech and academic freedom policies."
The statement asks the university to retract President Philip Hanlon's critical statement, apologize to Bray "for exposing him to entirely predictable possibility of physical harm," and study how Dartmouth's peer institutions "react when such a situation arises again—as it most certainly will."
Author @Mark__Bray joins us to talk about his book "Antifa: The Anti-Fascist Handbook" & the #Antifa movement https://t.co/1xAyNE1I0q pic.twitter.com/BeoY10mjjW

— Washington Journal (@cspanwj) August 26, 2017
Here's the somewhat typo-ridden transcript from the Aug. 20 broadcast of Meet the Press, where moderator Chuck Todd asks Bray why he's part of "a very small minority here who is defending the idea of violence considering that somebody died in [the 'Unite the Right' rally and counterprotest in] Charlottesville."
Bray replies:
I think that a lot of people recognize that, when pushed, self-defense is a legitimate response to white supremacy and neo-Nazi violence. And you know we've tried ignoring neo-Nazi's in the past. We've seen how that turned out in 20's and 30's and the lesson of history is you need to take it with the utmost seriousness before it's too late. … And the way to stop that is what people did in Boston [by physically attacking a "free speech rally"], what people did in Charlottesville. Pull the emergency break and say you can't make this normal.
Reminded by Todd that the civil-rights movement had its own supporters of political violence who were overruled by its leaders, Bray again euphemizes political violence against words as self-defense:
Well, there's a big difference between confronting fascism and confronting other forms of violence. So we can see that during the 30's and 40's, there was no public opinion to being leveraged by non-violent resistance. If you get fascist to be powerful enough in government, they're simply not gonna listen to the kind of public opinion that non-violence can generate. … A lot of people are under attack and sometimes they need to be able to defend themselves. It's not, you know, it's a privileged position to be able to say that you never have to defend yourself from these kinds of monsters.
.@Mark__Bray responds: "Facism cannot be defeated by speech." #MTP https://t.co/SF8eSOLU2O

— Meet the Press (@MeetThePress) August 20, 2017
This is how Bray's faculty peers characterized his euphemistic remarks that conflate violence against words – the hallmark of Antifa – with "self-defense":
At no point in his interviews did Professor Bray call for violent protest.

He did make the irrefutable historical point that fascism has not been stopped by usual recourse
to public debate and democratic electoral politics; we fought a war because of that fact.

He did assert his opinion that self-defense can be necessary at the hands of violent fascists.
According to a Tuesday report from Inside Higher Ed, which also does not provide a list of faculty signatories, more than 120 faculty have signed the statement.
Bray told the publication "his work is sympathetic" to Antifa and that the movement's use of violence is "a legitimate response, historically founded in the inability of liberal solutions to halt the advance of Naziism" in the prior century.
He claims that harassment of him, which includes online death threats, has worsened since President Hanlon posted his critical statement.
The university has refused to apologize or remove the statement, but as Inside Higher Ed notes, it "has taken no punitive actions against Bray or revoked any of his faculty privileges, such as use of its radio studio for interviews."
Inside Higher Ed, whose co-editor is Bray's cousin, claims with no attribution that Antifa "tactics are mostly nonviolent."
Read the faculty statement, Hanlon's statement, Meet the Press transcript, and reports in the Chronicle and IHE.
MORE: Teacher arrested for assaulting white nationalist says violence justified
Like The College Fix on Facebook / Follow us on Twitter
IMAGE: Meet the Press/YouTube