Editor's note: This article contains graphic content
HANOVER, N.H. — Dartmouth College made headlines earlier this year when it canceled an event featuring independent journalist Andy Ngo, but campus leaders were unconcerned last month when the college hosted a sexually explicit trivia night.
The Collis After Dark student group hosted "Sex Toy Bingo" in late May that featured prizes such as ropes and handcuffs as well as a dildo, cock ring, butt plug and masturbation sleeve.
Additional giveaways included gift cards to local establishments and the books "Bang!: Masturbation for People of All Genders" and "Abilities and Queer: A Graphic History."
Tables decorated with fake peaches, eggplants and stickers with pride flags greeted the approximately 120 students in attendance.
Rounds of bingo were broken up by trivia sessions in which students answered questions such as "What is a safe word?" "What does demi-sexual mean?" and "What does BDSM stand for?"
A final round of trivia included showing explicit cartoons on a large screen and asking them to identify the sex position depicted (pictured).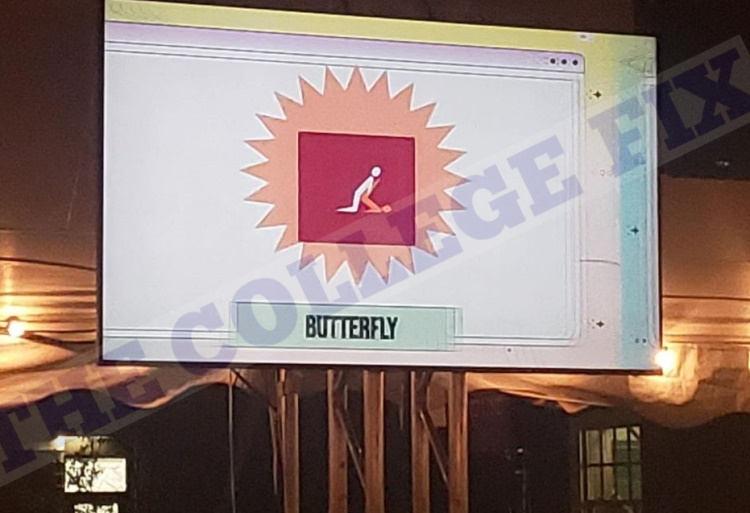 The event was led by Dartmouth student and Collis After Dark organizer Roman Olavarria. In an interview with The College Fix, he said he decided to host the event after being inspired by a video he saw on TikTok.
The "Roe v. Wade situation" was also a major point of discussion by members of Collis After Dark in the planning and lead up to the event, Olavarria said, but added he "didn't want to get into specifics."
The goal of the event, he said, was "lots of entertainment," adding "a niche comedy that comes with this event." He said he also believes Dartmouth students were excited about the idea of an event that involved giving away adult toys.
Olavarrio said the purpose of the event was for sex education and sex positivity and believed that sex toys should "definitely" be a part of a sex-ed curriculum since "they can be dangerous if not used properly or not cleaned properly."
"A viewpoint that Collis After Dark pushes is inclusivity," he said.
However, when asked what he would say to students who would oppose Sex Toy Bingo due to religious beliefs or simply having a more traditional conception of sexuality and marriage, Olavarrio said, "For those students, I would say, be open-minded, and you don't have to participate."
To host the event, Olavarrio said Collis After Dark teamed up with Dartmouth employees working in the Office of Pluralism and Leadership, or OPAL, an administrative body that focuses on social justice and intersectionality, as well at the health center's "Safer Sex Bar."
Angélique Bouthot, program coordinator for community and leadership development at OPAL, helped host the event. Bouthot, who goes by "she/they" pronouns and is a self-described "cat mom" and "condom lady," previously worked as a Community Outreach Director for Planned Parenthood. She declined an interview request.
When asked about the cost of the event, Olavarrio said he "didn't know the specifics" and referred to Joshua Rivard, the administrator charged with leading Collis After Dark. Rivard was not present at the event and declined to comment. Diana Lawrence, Dartmouth's spokesperson, also declined to comment
The sex toys and books were purchased at Earth and Salt, a sex toy shop in Burlington, Vermont. An invoice obtained from Earth and Salt reveals that the prizes cost $292.38 and that they were purchased by Rivard. This does not include the cost of food purchased for the event or gift card prizes.
Olavarrio said he did not get any pushback from the Dartmouth administration for hosting this event, calling campus leaders "open to a lot of things."
In contrast, Dartmouth administration threatened to derecognize the Dartmouth College Republicans after canceling an in-person event the group hosted with Ngo and charging the College Republicans several thousands of dollars in security fees.
MORE: Dartmouth shut down my campus event featuring Andy Ngo — then blamed me for it
Editor's note: The author of this piece, Chloe Ezzo, is president of the Dartmouth College Republicans.
Like The College Fix on Facebook / Follow us on Twitter