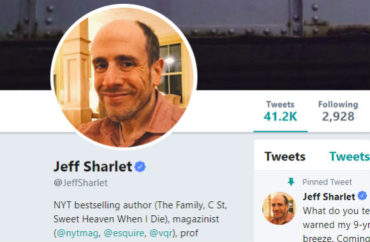 They are worse than 'violent anti-Semitic bullies'
Some people who initially denounced students from Covington Catholic High School for their alleged behavior in Washington, D.C. over the weekend have had the good sense to re-evaluate their views, in light of more video evidence.
A professor at Dartmouth is not among them. Instead, Associate Professor of English Jeff Sharlet – a bestselling author – is doubling down on his antagonism toward the students.
Sharlet was not convinced by nearly two hours of video that showed the students had been taking slurs from a group of anti-white, anti-gay black nationalists when Native American activist Nathan Phillips wandered toward them, banging his drum in one student's face.
His Twitter reaction Saturday afternoon, which remains live Tuesday night: "I'll have no problem with someone doxxing these boys." It quickly drew an objection from Nicholas Christakis, the Yale University professor who knows what it's like to be surrounded by an angry mob.
I haven't followed this case closely. But mob justice is not justice. At least that my opinion.

— Nicholas A. Christakis (@NAChristakis) January 19, 2019
They continued back and forth, with Sharlet seemingly endorsing the publication of private information about "teenage boys" who surround "any elderly person" and try to "shout him into the ground." The videos show no such thing.
Would you say the same thing about the doxxing of (often minority) students on campuses by the right? Plus, the point of justice is that it not be impassioned.

— Nicholas A. Christakis (@NAChristakis) January 19, 2019
Yes, that kind of behavior is mob-like and vile and immature, too. I know.

— Nicholas A. Christakis (@NAChristakis) January 19, 2019
Sharlet continued that evening, describing the "Covington creeps" as worse than the "violent anti-Semitic bullies" in his "working class white, fairly racist high school." Keep in mind he's referring to a short video clip where a teenager responds to a drum in his face by smirking. The professor also said they don't have souls.
I grew up a nearly singular Jew amidst some violent anti-Semitic bullies. The Covington creeps are worse. I never saw anything that grotesque in my working class white, fairly racist high school. https://t.co/LvH81ahMAn

— Jeff Sharlet (@JeffSharlet) January 20, 2019
When the "smirker" Nick Sandmann released a statement, the privileged Ivy League bestselling author denounced him because the "bullshit" was probably written by someone else. Sharlet retweeted statements identifying the PR firm who sent the statement.
Sandmann, his family and the entire school community have been hit with death threats. Using the services of a PR firm in the face of an online mob – which was spreading disinformation about an event that was incessantly recorded – seems fairly mild in response.
According to his faculty page, Sharlet has written or edited six books of literary journalism including The Family, and he's a contributing editor for Harper's, Rolling Stone and Virginia Quarterly Review.
MORE: Dartmouth scholar whitewashes, funds Antifa
IMAGE: Jeff Sharlet/Twitter
Like The College Fix on Facebook / Follow us on Twitter