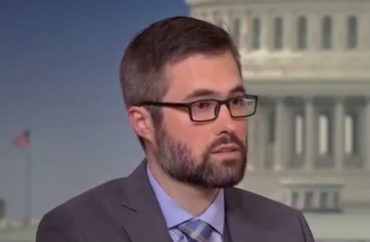 Stand your ground against offensive words?
Mark Bray is a foppish son of privilege who did the bare minimum to stay in the history Ph.D. program at Rutgers University while he served as Occupy Wall Street's spokesperson.
Now that he's the leading academic booster of Antifa, he still can't bring himself to condemn the movement's violence against words when asked directly by a reporter.
Even worse, he's going to start funding these thugs with the proceeds from his new "handbook" on Antifa.
The Chronicle of Higher Education soft-pedals Bray, now a lecturer at Dartmouth, as a "button-down anarchist" whose babyface belies his age of 35, but it can't really hide his support for Antifa violence:
He is often asked about the use of violence. Does he endorse it? It's complicated, he says. Antifascist groups often are formed as an act of self-defense, so in some contexts their use of clubs or shields might be justified, he argues. (In his antifa book, he points out that an antifascist demonstrator was shot outside the scene of a January speech by Mr. Yiannopoulos at the University of Washington.) Despite the public fascination with Nazi-punching, he writes, violence is "a small though vital sliver of antifascist activity."
Bray became a celebrity academic in the aftermath of the Charlottesville white-nationalist march and rally; when Dartmouth's president condemned his statements in support of left-wing violence, more than 100 faculty came to his defense.
His new book "The Anti-Fascist Handbook" – which compares America in 2017 to Germany in 1936 – was rushed to print after Charlottesville, and it's going to play a role in financing the domestic terrorism of Antifa:
Bray doesn't pretend to explain antifa in a dispassionate way. He wants to give practical advice to activists resisting fascism and thinks their work should be taken seriously by the public and academe. Half of his earnings from the book will be given to a fund that supports antifascists to cover legal, medical, or personal costs.
According to the Chronicle, he'll be on the market again this spring after his Dartmouth contract ends, and we'll see which universities want to associate themselves with trendy academic whitewashing of political violence.
MORE: Dartmouth faculty denounce president for denouncing terrorist sympathizer
MORE: Teacher arrested for assaulting white nationalist says violence justified
IMAGE: Meet the Press
Like The College Fix on Facebook / Follow us on Twitter