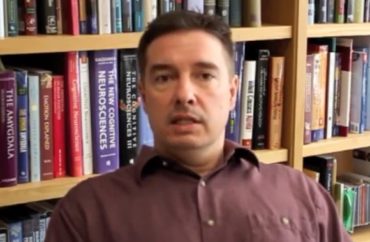 Accusers portrayed him like a Harvey Weinstein associate
What happens when a college cares so much about its own reputation that it silences a professor from even defending himself against horrific allegations?
For Dartmouth, it contributed to his death at 50.
David Bucci killed himself after the college refused to let him clear his name against allegations that he looked the other way when female students brought sexual harassment allegations to him as department chair.
When the college settled the students' $70 million class action suit in August for $14.4 million, it declined to issue "the one thing Dr. Bucci had hoped for: a statement proclaiming his innocence," The New York Times reports in a troubling feature on the human cost of unfounded allegations.
Dartmouth's strategy was to let its legal rebuttal speak for itself, ignoring the likelihood that the media would be indifferent by that time. It had fatal consequences for Bucci, who killed himself in October:
He and his colleague Thalia Wheatley, the director of graduate studies, who was also named in the lawsuit, struggled to stay silent while the details of the case swirled around campus. …

[A Dartmouth spokesperson] said that the college's general counsel and public relations office believed that the best way for [Bucci] to tell his side of the story was not by speaking out but through the legal process, mainly Dartmouth's point-by-point rebuttal to the complaint. …

The women's complaint was filed in November 2018, and it immediately made national headlines for its graphic accounts of rape and harassment.

Dartmouth's rebuttal was filed in January 2019, long after the news had died down. It got little if any notice.
Bucci, a memory researcher who took over the psychological and sciences department in 2015, said the students who complained to him and Wheatley "did not mention some of their gravest allegations, such as rape, and did not name the professors" at first.
Wheatley said the students also asked to wait to be transferred "until their evaluations were in" so the accused professors could not retaliate. Nonetheless, she and Bucci "immediately went to the Title IX office" to register the complaints.
MORE: Cornell pays off student in double-jeopardy suicide lawsuit
The allegations in the lawsuit were not all as severe as rape. One professor was described as "handsy" and another a "hugger":
Much of the bad behavior took place after hours, off campus, and before Dr. Bucci became chairman. The signs of misconduct had been ambiguous, Dr. Wheatley said. The professor described as a "hugger" would go down the graduation line hugging both men and women. It was considered one of his personality quirks. …

The lawsuit had come as standards for workplace behavior were rapidly changing. "We're all savvier now," she said. "If I saw that now, I would ask more questions."
Bucci was not a minor player in the suit, despite the diversionary tactic by the accusers' lawyer Deborah Marcuse, who notes they never accused him personally of assault:
He was named 31 times in the 72-page legal complaint, which said that after receiving the initial grievance, the college had been slow to protect the women from further abuse, and that Dr. Bucci had called a department meeting where he browbeat the women who were planning to sue.
Wheatley and Bucci did not "go on the offensive" to silence the accusers – who had not divulged they would sue – but rather called the departmental meeting to "dispel rumors on Twitter that they did not really care about the women," Wheatley told the Times.
Bucci had a history of "crippling depression," and the toll of keeping quiet as his name got dragged through the mud brought it roaring back. By the time his faculty dean rose to his defense, he was on the verge of being "hospitalized for depression and treated with electroconvulsive therapy."
Three of his accusers showed up to his memorial reception, according to several people there. They aren't named, but six of the seven women who filed the initial suit identified themselves: Kristina Rapuano, Vassiki Chauhan, Sasha Brietzke, Annemarie Brown, Andrea Courtney and Marissa Evans.
Dartmouth's notice of Bucci's passing does not mention his suicide or the college's role in it. A reader unfamiliar with Bucci's saga would have no clue that the accusers had made him into a figure analogous to Harvey Weinstein's associates.
MORE: Male student kills himself after university officials destroy his reputation
IMAGE: Guarini School of Graduate & Advanced Studies/YouTube
Like The College Fix on Facebook / Follow us on Twitter