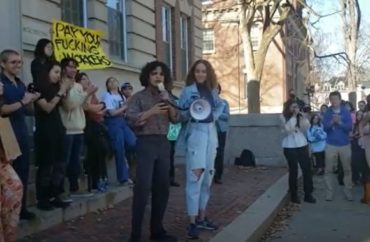 'Pay your f***ing workers,' students demanded
Students at Dartmouth College are demanding a number of benefits, including an increased minimum wage of $21 per hour for campus jobs to $27 per hour for late-night shifts, including for those who work at a campus coffee shop.
The students, members of the Student Workers' Union Collective, have held protests, circulated petitions, and used email and social media to push for their workplace demands throughout the past year. 
Among their demands articulated at a November 3 event attended by The College Fix were higher wages, the removal of an unreliable espresso machine, and free meals for workers, as well as a schedule that better fits with their life as a student.
The students held hand-painted banners and signs that said, "Pay your f***ing workers," "Support our struggle," and "Listen to student workers."
Kaya Colakoglu thanked his "fellow student workers and comrades," and said that the protest was about a "class reality." He criticized the "rich, white administrators and trustees who rule our university under a dictatorial austerity regime."
"We are not asking for $21 [an] hour. We are demanding it," he said. "We are not making a case for handouts for being looked after better. We are simply taking back what is ours. It is us who run this school."
Colakoglu added "a man-made system [that] has made [it] so that even though it is us who makes the world spin, it is you who enjoys the fruits of our labor."
He continued, "F*** that! We want it all! We don't want a few dollars more. We don't want your pity. We don't want your handouts. We want the whole fucking world and we will settle for no less."
"We have tasted power," he said.
Colakoglu, who called himself a communist, is a Turkish international student and attended Uskudar American Academy, a private high school in Istanbul, he said.
When asked by The Fix to clarify who specifically he considered to be part of a "dictatorial austerity regime" at Dartmouth, Colakoglu declined to give any further comment.
Another student gave her perspective on the collective bargaining process.
"You bargain, we have our contract, we have our fucking union, and you go and they sit you down at a nice table and they're greeting you with their fucking $1,000 paid dollar an hour lawyers, heads of DDS, vice president, whatever the fuck. I don't care," student activist Sheen Kim said at the rally.
She said that the college tries to "offer you the crumbs of what we have dredged up and that you'll just take them. We don't fucking take them."
Kim said she studies geography and anthropology at Dartmouth and previously attended The Meadows School, a private K-12 school in Las Vegas, Nevada.
The union represents students who work in Dartmouth Dining Services. Much of the complaints at the rally centered on grievances from working at Novack Cafe, the campus coffee shop.
Sophomore Esmeralda Abreu-Jerez referred to "Novack scars," including one on her finger that is "really small, really trivial, but it happened." She was scarred by "hot icing on a cinnamon scone," Abreu-Jerez said at the rally.
The campus food worker complained about having to serve her fellow students and professors at the Novack Cafe.
"Novack scars is also the emotional scar that I get when someone doesn't look me in the eyes when [they] order, when someone doesn't say thank you when I give them their food, when I have to serve my professors or I have to serve a student I just had a debate with in class," she said. "That's what a Novack scar is to me."
Abreu-Jerez also said the wages provided by campus job are not enough to also support her family in the Dominican Republic.
Several protesters, including Colakoglu and Kim, invited students attending the protest to the collective bargaining session that took place the following week on November 8.
The Fix also requested to attend the session but was informed negotiations were for union members only.
In an interview with The Fix, Colakoglu and another protester, Ann Furtado, were asked if they would be satisfied if the college met their demands.
Colakoglu replied: "We are always pushing for more."
Similarly, Furtado said, "That is the point of having a union is that we can always press for things that we want but that we demand that we deserve because we are the ones who put value into how the institution operates. This is the beginning, and we, as a union, will collectively imagine what we will demand future, so it doesn't stop here."
Ian Scott, who did not speak at the protest, but is one of the Student Workers Collective organizers, wrote that as a dishwasher at Dartmouth Dining Services, he had "the general dishonour of serving rich, white students," in an article for The Dartmouth Radical.
Scott, whose father also attended Dartmouth, is a legacy student. He described Dartmouth as an institution "steeped in racism and classism" and wrote that he was disillusioned with Dartmouth even before he matriculated.
He "read a line from George Jackson's 'Blood in My Eye' that perfectly encapsulated our historical obligation," Scott wrote in The Radical. "'Wherever I find myself on bourgeois soil, I must struggle against it.'"
The university, when asked about work-life balance, told The Fix that students have a variety of shift options.
"There are many shifts at [dining services] that take place after the academic class schedule has ended for the day and on weekends," David Newlove, associate vice president of hospitality, told The Fix via email. "There are ample shifts available throughout DDS that a student should not have to choose between classes or working."
The collective has gone silent on social media in recent weeks, without any posts on its normally active Twitter and Instagram.
The College Fix reached out to the group via email on December 9 to ask for an update on its demands and if it had met with any administrators since early November, as well as its plans for the spring. It has not received a response.
Part of the Student Workers Collective, Dartmouth's organizing efforts have included a joint training seminar with the Young Democratic Socialists of America last summer. The group won union recognition from the National Labor Relations Board in March, according to its Instagram page.
MORE: Oral arguments heard in First Amendment case over forced dues by 'anti-Israel' union
IMAGE: Chloe Ezzo for The College Fix
Like The College Fix on Facebook / Follow us on Twitter