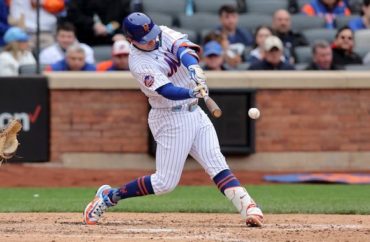 The MLB 'can […] put its mic towards advocating for mitigation measures'
A new study from researchers at Dartmouth College claims that "hundreds more" home runs will be hit by major leaguers by the end of the 21st century due to global warming.
The Bulletin of the American Meteorological Society study, titled "Global warming, home runs, and the future of America's pastime," also notes that Earth's higher temperature is responsible for more than 500 MLB four-baggers since 2010.
If the planet's warming trend isn't abated, we can expect it to lead to "10% of all home runs" by 2100, CNN.com reports.
Basic physics are the reason: Warm temperatures mean less dense air — "there's more empty space" between molecules. As such, balls travel farther when struck by a bat.
The study looked at "more than 100,000 MLB games and 220,000 individual hits" in association with "unseasonably warm temperatures." The results showed a "spike" in home runs in games played during the day with clear weather compared to games played at night and in domes.
Study authors Christopher Callahan and Justin Mankin told CNN their study could be used "as evidence to advocate for climate solutions":
"Global warming is already affecting gameplay for professional baseball. And that's just going to continue in the future and that effect will get stronger," Mankin said. "A billion-dollar organization can also start to put its mic towards advocating for mitigation measures. And I think that's really important – a powerful sports organization coming out and saying, 'Hey, this is affecting one of the most important cultural touchstones in America.'"

MLB declined to comment on the study, but pointed to their environmental sustainability efforts, including its "Green Glove Award," which goes to the team with the highest recycling rate.

Callahan said there are two things MLB could change in the near-term to limit the effect: switching to more domed stadiums to insulate the game from rising temperatures, or shifting schedules to more night games – though the latter could be difficult to implement and run up against city ordinances.
But what incentive does Major League Baseball have to do this? Attendance at games has been declining since 2012 (COVID didn't help in the past few years) and the MLB made substantial changes this year (like a pitch clock) to make games more enjoyable for fans.
A huge part of that enjoyment is home runs. Recall the league's Steroid Era which included the 1998 Mark McGwire-Sammy Sosa home run battle and Barry Bonds' HR record-setting (73) 2001 season. Despite the ethical issues, these years brought stadium attendance back from the brink following the 1994 MLB strike.
MORE: Former student sues high school baseball coach for telling him to slide
MORE: Raising wimps: School bans footballs, baseballs, lacrosse balls, 'anything that might hurt someone'
IMAGE: SNY Mets / Twitter screencap
Like The College Fix on Facebook / Follow us on Twitter