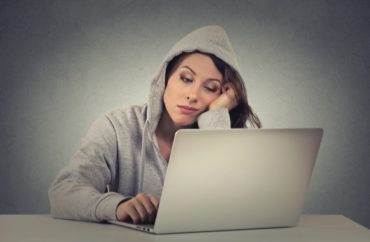 New diversity chief to be elevated to vice president level
According to the fictional NBC executive and Princeton graduate Jack Donaghy on the sitcom "30 Rock," Dartmouth men don't "speak a word of English."
The vocabulary of the Ivy League school's members will get even less comprehensible following changes announced by President Phil Hanlon Wednesday.
In order to "eradicate the oppression and racism Black and other students, faculty, and staff of color experience on our campus and all across our country," Dartmouth will make "implicit bias training mandatory for all students, faculty, and staff," Hanlon wrote.
Even its Board of Trustees "has committed itself to participating in the training," he said, suggesting the board didn't actually mandate that trustees will sit through however long the training is. (The statement is signed by Hanlon, his "senior leadership team" and the board.)
Nonwhite community members will also have "greater access" to nonwhite therapists, due to "the toll systematic racism takes on Black students and all students of color," the white president continued. Therapists of all colors will be required to have "working knowledge of race-based trauma and how to address it."
Hanlon's list of changes is not as extreme as those announced by another elite private university, Duke, which said it was functionally reordering its curriculum and administrative actions around "antiracism." But he did specify that Wednesday's announcement was "just a start."
MORE: 'Antiracism' means equal outcomes among racial groups
Dartmouth will "take advantage of our strong liberal arts core and the unique constellation of graduate and professional schools to develop leaders who are committed to addressing the world's challenges, including the creation of more just and civil societies," he explained:
We strongly support the ongoing faculty-led efforts to expand curricular offerings at all of Dartmouth's schools in the areas of racial injustice, systemic racism, and institutionalized inequality. The deans among us look forward to the opportunity to consider and ultimately act on what the faculties propose to expand the curriculum in this important way.
It's elevating the next person to lead its Office of Institutional Diversity and Equity to the level of "vice president and chief diversity officer." A national leadership search will start in September.
Dartmouth will keep spending money on recruitment and retention of nonwhite faculty and staff while instituting "more comprehensive exit interviews" with departing nonwhite employees. Through an "enhanced retention plan," it aims to stanch the outward flow of nonwhites by "identify[ing] issues early," Hanlon said.
In a change that may have the broadest ongoing repercussions on students, Dartmouth will revise how public safety officers interact with the community "to ensure empathetic, equitable, and just standard operating procedures."
MORE: Duke mandates anti-bias training, will reorder curriculum around 'antiracism'
IMAGE: pathdoc/Shutterstock
Like The College Fix on Facebook / Follow us on Twitter