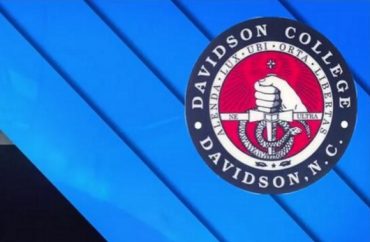 Davidson College, an elite private university in North Carolina, has zero registered Republicans teaching in its political science department, and what's more, only six percent of the professors campuswide are registered Republican, according to educators' publicly registered party affiliations researched by The College Fix.
Davidson enrolls only about 1,750 students, and this month it was ranked as the No. 1 school in the south and 25th in the nation by Forbes, which noted since its founding in 1837 it has educated 23 Rhodes Scholars, four governors and NBA megastar Steph Curry.
But while Forbes touted the school's great student-to-professor ratio (10 to 1), and its "Honor Code, which enables students to have take-home tests and un-proctored final exams," it did not rank the school based on its faculty's ideological diversity, or apparent lack thereof.
In total across 21 departments at Davidson, 40 percent of professors researched are registered Democrats, while 23 percent are unaffiliated, and 6.5 percent are Republicans, according to data from the state's online public voter database, maintained by the State Board of Elections.
The political science department joins the history, gender and sexuality studies, English, and biology departments in an apparent lack of any Republican representation, as far as what's found on the voter registration database. (A 2014 profile on Davidson cites political science, English, history and biology as some of the school's most popular majors).
Smaller departments that also lack Republicans and have less than six professors include theatre, anthropology and classics.
MORE: At UNC Chapel Hill, 17 departments have zero registered Republican professors
Among Davidson's 15 political science professors, zero showed up as being registered Republican. Seven professors are registered Democrats and four are unaffiliated (in North Carolina, voters can register as unaffiliated). Four could not be determined, and emails to those professors by The College Fix asking for their party affiliation were ignored. 
Among the Democrat poli sci professors is Susan Roberts, who told The College Fix via email she is an adviser to the College Democrats "but I do not advocate for either major party nor the Libertarians." As a faculty member also affiliated with the gender and sexuality studies department, Roberts' profile points out she is working on a manuscript on politics and women's reproductive issues, and recently coordinated D.C. programming for the Democratic National Convention.
Political Science chair Ken Menkhaus, a registered Democrat, told The College Fix in an e-mail that he was surprised by the results, but noted he doesn't believe affiliation is particularly relevant.
"I was unaware of the fact that we have no registered Republicans on the Political Science faculty at Davidson. Whatever political leanings our faculty may privately hold, we are committed to presenting a wide range of perspectives fairly, and subject all research and opinion pieces to robust critiques," he said. "We are professionals first and foremost, and take great pride in presenting political and policy questions as testable hypotheses or points of debate, not articles of faith. I dispute the premise that an educator's identity – as a member of a party, or as a member of any other grouping – prevents him or her from teaching politics in a fair and impartial manner."
The history department, while being part of a top-ranked school, does not require its history majors to to take a class on U.S. history in order to graduate. In that department, zero registered Republican professors could be found in the database.
However, Republican chemistry majors are in luck, as 50 percent of the department's 12 professors are Republican — a statistical anomaly that might indicate party affiliations do play some unofficial preferential role among hiring committee preferences.
MORE: Law schools dominated by Democrat professors, research finds
As for Davidson's leadership, in April of this year, the president of the university, Carol Quillen — a registered Democrat — went on a Twitter rant after the passage of the bathroom privacy bill H.B. 2, saying the law would make women less safe.
The college, which costs about $47,000 annually in tuition and fees to attend, also hosts left-leaning speakers, such as gay, illegal immigrant journalist Jose Antonio Vargas. And the 2015 commencement honored William Eskridge, a law professor who helped sue on behalf of gay couples in 1996, and is a "legal expert in the emerging field of gender, sexuality and the law," according to the university.
While Mecklenburg County, where Davidson is located, is a Democrat-leaning county, professor party affiliations don't come close to the makeup of the county. For example, in 2012, 40 percent of voters supported the Republican ticket of Mitt Romney and Paul Ryan, although 50 percent supported Republican Pat McCrory for governor. In 2014, 40 percent of voters supported Republican Thom Tillis for Senate.
As for The College Fix research, about 25 percent of the professors names could not be found in the database, or there were too many registrations of common names to determine a professor's affiliation unless they lived in or near Mecklenburg County. When possible, The College Fix used the registration date, ethnicity, middle initial, or some other detail of the registered voter to more accurately determine party affiliation.
MORE: No Republican profs teaching theology at Catholic university
Like The College Fix on Facebook / Follow us on Twitter