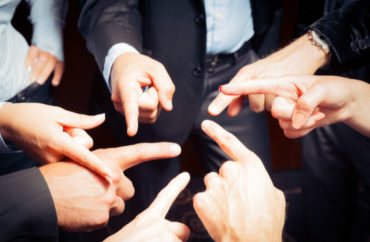 A workshop taking place today at UCLA will explore topics such as "Diasporas of Racial Capitalism," imperialism and "settler-colonialism" as part of a nationwide initiative focused on exploring how capitalism contributes to "persisting racial inequality," according to organizers.
The daylong "Race and Capitalism: Global Territories, Transnational Histories" event at UCLA will include more than two dozen scholars participating in a handful of presentations and discussions focused on exploring race and capitalism.
The conference is hosted by UCLA's Institute on Inequality and Democracy, which has urged resistance against President Donald Trump and is led by a professor who has proposed "divesting from whiteness."
The workshop is also part of a recently launched "Race and Capitalism" project headed up by a pair of professors from the University of Chicago and University of Washington.
The Race and Capitalism initiative seeks to "study the intersection of race and capitalism within the U.S. and to start a national debate on the topic," according to its website. The project's mission statement claims scholars have largely ignored the relationship between the two topics.
"The near silence around this intersection in academic discourse is especially troubling considering the #BlackLivesMatter protests that have rocked the nation throughout the last three years and heightened the need to expose the economic as well as the political and legal foundations of persisting racial inequality," the project's website states.
The workshop at UCLA will include introductory speeches from Michael Dawson, co-director of the Race and Capitalism initiative, and UCLA professor Peter James Hudson as well as presentations titled "Diasporas of Racial Capitalism," "The Land Question," "Imperialism and Its Limits," and "Race, Capitalism, and Settler-Colonialism."
Professor Ananya Roy, the conference's host and director of UCLA's Institute on Inequality and Democracy, did not respond to The College Fix's request for comment regarding the daylong workshop, nor did the event's four "anchor" speakers.
One of the featured speakers includes Johns Hopkins University history professor Nathan Connally, a co-creator of the "Trump Syllabus 2.0," a reading list that contributed Trump's "rise as a product of the American lineage of racism, sexism, nativism, and imperialism."
UCLA's Institute on Inequality and Democracy has focused its effort this year on opposing Trump and his administration. Earlier this year, it organized a day of resistance leading up to Trump's inauguration, and Roy has written the institute has become "concerned with the role of the university on the front-lines of resistance against Trumpism."
MORE: Cornell may crack down on free speech in wake of racial unrest
IMAGE: Shutterstock
Like The College Fix on Facebook / Follow us on Twitter