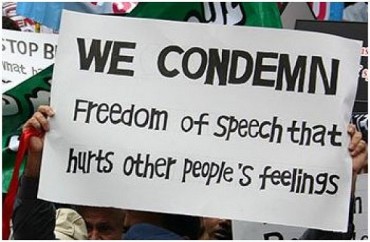 Despite apologies, a 50-day suspension, and required attendance at a "diversity training," University of Houston Student Government Association Vice President Rohini Sethi remains the focal point of intense discussion regarding free speech and free expression.
In early July, Sethi had the unmitigated gall to post "#AllLivesMatter" on social media. The U. Houston community became incensed, with some groups demonstrating a rather head-scratching understanding of basic constitutional rights.
Sethi eventually was given the suspension and notified of the diversity training. She'll also have to write a "reflection letter" and make a "public presentation" at a late September (Student) Senate meeting.
This past Wednesday the U. Houston SGA continued to argue the so-called "morality" of the "#RemoveRohini" campaign.
"This isn't just something that you slap somebody on the wrist for," said communications junior Destinie Holiday. "We're addressing systematic racism, institutional racism, and many other things. Why is it that it took this for you to recognize and hear our voices? Why is it that this had to go all over the news or become a hashtag for African Americans to be heard on this campus?"

Many spectators hoped to see the Senate rescind the bill it passed on the July 27 meeting that allowed SGA President Shane Smith to sanction Sethi. They voiced concern for Sethi's First Amendment right to free speech at a public university and for the bill's legitimacy under the SGA constitution.

MORE: Student punished with diversity training for 'All Lives Matter' tweet

"Saying that I'm allowed to be physically and culturally diverse but being intellectually diverse is a no-go is the basis of every totalitarian government in history," said Matthew Wiltshire, a history senior and former justice who resigned last month over the controversy. "What you did during the last meeting was fundamentally wrong. I have lots of letters from people saying they are withdrawing donations to this University. I got one from a guy who donated $50,000 last year."

Kadidja Koné, the marketing sophomore and president of the Black Student Union who has been a frequent advocate for Sethi's removal, said she respects Rohini as an engineer and "woman of color" but cannot allow the issue to go unpunished.

"The freedom of speech is not what is being questioned or punished," Koné said. "The problem is: If you represent me, I expect you to understand my struggle, and I expect you to be correct. Do I believe that she's a racist person? Absolutely not. But do I believe she was an accurate representative of me when she put that post out? No. I gave her my vote. When you no longer can represent your student body, you should not be in office."
Ms. Koné has an interesting take on representative democracy (which isn't unique in this case): If the person for whom you voted no longer appears to represent you, instead of supporting her opponent in the next election, just have her removed by some Senate edict … ?
Indeed, the university had sent out a statement indicating that the SGA is "a registered student organization subject to its own governance." In essence, "We're not doing anything to Ms. Sethi, the 'independent' SGA is."
The problem with this is that U. Houston is a public institution. If the SGA receives funding from the school and is otherwise supported in any way, then how can it arbitrarily strip a member of her First Amendment protections?
What would be the university's reaction if a "registered student organization subject to its own governance" voted to expel a homosexual member whose social media posts were of questionable taste? Or, merely because his/her lifestyle was deemed "offensive"?
MORE: U. Houston community says student leader must go after 'All Lives Matter' post
MORE: Student summoned to 'required Administrative Meeting' over Facebook posts
Like The College Fix on Facebook / Follow us on Twitter
IMAGE: Sam Graham/Flickr