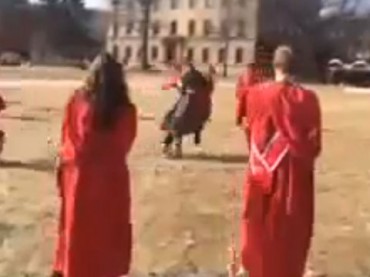 Student Code of Conduct gives ammunition to both sides
Fraternities around the country have found themselves under fire for racist behavior, alleged high rates of sexual assault and distasteful initiation rituals.
A University of Nebraska-Lincoln student group's century-old tradition, however, is challenging notions of what's considered hazing after a "tackling" video surfaced earlier this month.
Though the university cleared the coed Innocents Society, whose alumni include former Sen. Bob Kerrey, of hazing allegations last week, university police have opened an investigation into the group's practices, The Daily Nebraskan reported.
The furor started nearly two weeks ago when Total Frat Move published a video it said was sent in by an anonymous UNL student.
The undated video, titled "Check out this video of the University of Nebraska openly endorsing hazing," depicts a junior-level hopeful who is blindfolded, encircled, rushed but not hit by several robed members, and ultimately knocked to the ground by the last robed member.
The Daily followed a few days later with a personal account by a former Innocents member who left the group after coming to see the "ceremonial tackling" initiation, which is voluntary, as violent and the group's covert behavior as hazing writ large.
Walter Bircher said that last year he witnessed and took part in the ceremony for a junior inductee, which put that student in the university health center for concussion detection tests.
Though the student ultimately got a clean bill of health, Bircher said the concussion fear was the last straw for him.
Upon his own induction into the Innocents' ranks the previous year, Bircher recalled being driven around in the middle of the night for 40 minutes, blindfolded, before ultimately being forced to stand "on the edge of a highway for five or 10 minutes."
Does it 'damage anyone's reputation' or endanger their 'physical or mental health'?
The group, which is known as the "chancellor's senior honorary," acknowledges on its application form that the tackling can be intimidating.
While the ceremony is not "meant as a form of hazing or harassment," initiates with "concerns about being tackled are encouraged to include a brief explanation on a separate sheet of paper," the form says: "Expressed concerns will not affect the selection process."
The Student Code of Conduct has been cited by all sides as evidence for their interpretation of the tackling initiation.
The administration told the Daily the ceremony "doesn't require exertion, deprivation or embarrassment over a sustained period of time," and it doesn't "damage anyone's reputation," in accordance with rules governing "initiation rituals."
A separate section, though, defines hazing as "any activity by which a person intentionally or recklessly endangers the physical or mental health or safety of an individual" to be part of a student organization.
The Innocents Society's campus advisors, Michelle Waite and Ben Zitek, did not respond to requests for comment from The College Fix.
Too vaguely defined, like sexual assault
The term "hazing" is too liberally applied and oftentimes does not coincide with a more standard, legally defined categorization, leading to disputes such as that at UNL, an alumni adviser to a fraternity outside of UNL told The Fix.
"The definition of hazing, like the definition of sexual assault, has become vague, capricious, and subject to tribunal proceedings characterized by little to no due process," the adviser said.
"This has created a hostile environment for fraternities, who now live under the Lavrentiy Beria rule of 'you show me them man and I'll show you the crime,'" he said, referring to the head of the Soviet Union's secret police under Joseph Stalin.
"All it takes is one anonymous, hearsay allegation of hazing to launch an inquisition," the adviser continued, while conceding that "we would never allow such a thing in our fraternity" as UNL's Bircher described.
Kristin Wing, a Greek life consultant, told The Fix that her research into the Innocents Society suggests that its hopeful members are essentially told to "expect to be hazed and check the box here."
She has "never seen" such an attitude from a fraternal group, Wing said, and suspects that the Student Code of Conduct "trumps" the Innocents' disclaimer about the tackling on its application form, as a legal matter.
Fraternal Law Partners, a law firm dedicated to legal issues in Greek life and student organizations, did not respond to Fix requests for comment on the UNL situation and legal boundaries for hazing.
College Fix reporter Micah Fleck is a student at Columbia University.
Like The College Fix on Facebook / Follow us on Twitter
IMAGES: Roger Dorn/YouTube, University of Nebraska-Lincoln