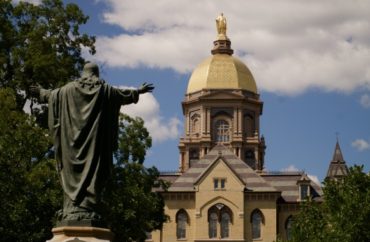 Notre Dame has a $13.8 billion endowment
The University of Notre Dame, with an endowment of $13.8 billion, said Wednesday it would accept $5.8 million in federal coronavirus aid through the CARES Act.
Notre Dame spokesperson Paul Browne said in a news release the funds "will be used exclusively for direct financial aid to students whose families have been struck by unemployment or otherwise upended by the pandemic."
Notre Dame's announcement came the same day other wealthy universities, including Harvard, Yale, Princeton and Stanford, announced they will not seek the relief funding following intense pressure from President Donald Trump and Education Secretary Betsy DeVos.*
In a statement Wednesday, DeVos said wealthy colleges "do not need or deserve" taxpayer funds.
"Schools with large endowments should not apply for funds so more can be given to students who need support the most," she said. "It's also important for Congress to change the law to make sure no more taxpayer funds go to elite, wealthy institutions."
Trump had pressured Harvard to not accept the CARES Act funding at the coronavirus task force briefing Tuesday, citing its large endowment.
"They shouldn't be taking it," he said. "So, Harvard is going to. You have a number of them. I'm not going to mention any other names. But when I saw Harvard, they have a — one of the largest endowments anywhere in the country, maybe in the world, I guess. And they're going to pay back that money."
Wednesday, Trump touted Harvard and Stanford's announcements that they would not accept the funding.
"And I'm pleased to announce Harvard has announced today that they will not accept the funds, nor will Stanford University or many of the others that were involved both on a university level," he said.
According to an October 2019 news release from Notre Dame, its endowment was valued at $13.8 billion. Notre Dame has one of the largest endowments in the country, in line with Ivy League universities.
The relief funding Notre Dame is requesting from the CARES Act is roughly equivalent to 0.05 percent of its endowment.
Browne said endowment spending is "constrained legally by thousands of donor agreements."
The CARES Act allocation amounts for campuses nationwide were based on a formula that factored in the number of students receiving Pell Grants at each school.
Harvard cited pressure from politicians in its decision to reject the federal aid: "We are concerned that intense focus by politicians & others on Harvard in connection with the program may undermine participation in a relief effort Congress created & the president signed into law for the purpose of helping those whose financial challenges may be most severe[.]"
Harvard maintained it never applied for funds through the CARES Act.
Stanford said Wednesday it had "rescinded" its request for funds as the coronavirus crisis "represents an existential threat for many of the smaller colleges and universities that are such a critical part of the fabric of higher learning in the United States."
Yale announced Wednesday that "though Yale is experiencing great budgetary pressure as a result of the pandemic, the university has decided not to seek these emergency funds. Instead, we hope that the Department of Education will use Yale's portion of the funding to support colleges and universities in Connecticut whose continued existence is threatened by the current crisis."
The Department of Education has been pushing wealthy colleges to not accept the relief funding as early as two weeks ago.
In a letter dated April 9, DeVos asked university presidents to consider giving their allocation to institutions in their region which might have "significant need."
And April 16, an Education Department spokesperson said DeVos believes sending millions to schools with "significant endowments" is a "poor use of taxpayer money."
Florida Senator Rick Scott said Wednesday: "It's ridiculous that wealthy universities like Harvard, which has a $40 billion endowment, would get taxpayer funding during a crisis. That takes money out of the hands of small businesses and individuals who need it."
In response to the uncertain economy, Notre Dame has announced a hiring freeze, cut university travel, and called on leaders to "dramatically reduce expenses."
MORE: Princeton, Harvard say they won't accept millions in coronavirus relief funds
IMAGE: Rebecca D. Lev / Shutterstock
Like The College Fix on Facebook / Follow us on Twitter