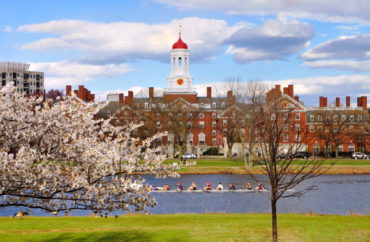 UPDATED
A day after Harvard pledged to use $8.6 million for student financial aid
Two of the eight Ivy League schools set to receive more than $50 million in CARES Act funding said Wednesday they won't accept it.
The announcements came about 90 minutes apart on Twitter, with both Princeton and Harvard saying they never asked for the money. They didn't acknowledge how much they were set to receive – $8.6 million for Harvard and $2.4 million for Princeton, the smallest distribution in the Ivy League.
Princeton tweeted first that it "has not yet received any of these funds, and never requested any of these funds."
The funding formulation came from the federal government, and it was intended to help schools continue to "support Pell grant recipients and other students impacted" by the COVID-19 pandemic.
Princeton already offers "no-loan financial aid packages and other programs are designed to provide exceptional levels of support to our students," and it's taking other steps to "meet additional needs" arising from the pandemic.
#PrincetonU has determined it will not accept funding allocated under the CARES Act. Princeton has not yet received any of these funds, and never requested any of these funds. pic.twitter.com/En4nhqyqkc

— Princeton University (@Princeton) April 22, 2020
Harvard followed in the late afternoon with similar language. "Harvard did not apply for this support, nor has it requested, received or accessed the funds," it tweeted.
But the school elaborated further than did Princeton on why it was rejecting the money:
We are concerned that intense focus by politicians & others on Harvard in connection with the program may undermine participation in a relief effort Congress created & the president signed into law for the purpose of helping those whose financial challenges may be most severe[.]
It also cited the "evolving guidance" around the higher education relief portion of the CARES Act. A full statement posted by Harvard Wednesday largely reiterates the tweet thread.
1/5 Harvard will not accept funds from the CARES Act Higher Education Emergency Relief Fund. Like most colleges & universities, Harvard has been allocated funds as part of the CARES Act. Harvard did not apply for this support, nor has it requested, received or accessed the funds

— Harvard University (@Harvard) April 22, 2020
Just yesterday Harvard told The Crimson that it was not using its CARES Act distribution for institutional costs, even though the federal formula only reserved half the money for student grants: "Harvard is actually allocating 100% of the funds to financial assistance for students to meet their urgent needs in the face of this pandemic."
The other six Ivy League schools – Brown, Cornell, University of Pennsylvania, Columbia, Dartmouth and Yale – have not tweeted similar commitments to reject the funding as of 4 p.m. Eastern.
Outside the Ivy League but still part of the elite university club, Stanford tweeted even earlier Wednesday that it would reject CARES Act funds.
It explicitly acknowledged that it had filed an application for the funds but said it contacted the Department of Education that morning to ask that its application be "rescinded."
We believe strongly in the importance of keeping these institutions viable in order to provide access to higher education for as many students as possible, and we had concluded that this should be a priority.(4/6)

— Stanford University (@Stanford) April 22, 2020
UPDATE: Stanford also said Wednesday it would not accept CARES Act funds. 
MORE: $140 billion in endowments, $53.7 million in feds' COVID bailout
IMAGE: Jorge Salcedo/Shutterstock
Like The College Fix on Facebook / Follow us on Twitter