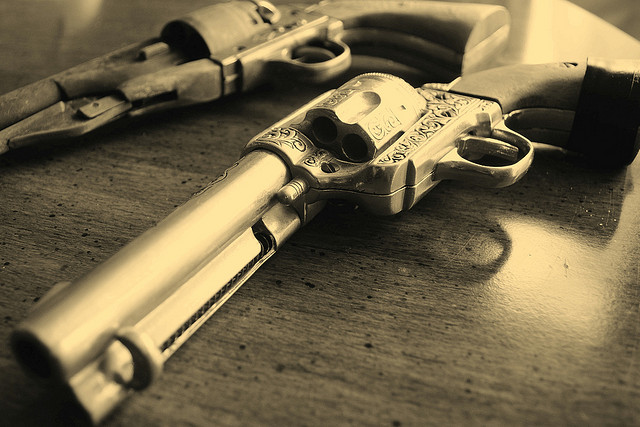 A gun battle of sorts at the University of Arkansas – Fayetteville recently ended in favor of those who prefer to be unarmed.
For the second time in less than a month, bills that aimed to revoke the campus' "gun-free zone" status failed to gain enough support to pass muster with the school's student government, despite a large contingent of students who favored the pro-Second Amendment rights measures.
On Tuesday, University of Arkansas' student government voted down a gun resolution that sought to allow those with concealed-weapons permits to bring guns on campus.
The development mirrored votes on Jan. 28, when the student government also shot down bills that aimed to pressure campus administrators to allow students and faculty the right to defend themselves on campus with the same conceal and carry license laws recognized across the state.
Arkansas colleges are left with the discretion to allow or prohibit guns on campus, and Fayetteville does not.
The rejected bills were sponsored by student Sen. Joe Youngblood, a junior majoring in criminal justice and sociology, who said he represented hundreds of students and plenty of faculty who wanted their constitutional rights on campus restored.
"I have received tons of support and e-mails from staff and faculty," Youngblood said in an interview with The College Fix. But he added that support is not always as apparent as he would like.
"I think a lot of the people that work here are concerned as to their job security, advancements, and having a stigma put on their name should they show public support for (gun rights)," he said.
Youngblood said his largest support group was Students for Conceal and Carry, which has more than 300 members. He said he was also backed by a College Republicans group, and received letters and e-mails from teachers and staff in support of his efforts.
Youngblood said he was prompted to sponsor the measures after fielding requests for action from fellow students.
The first bill "The University of Arkansas Self Defense Bill," would have, if approved, initiated the steps necessary to change the school's "gun-free zone" status and allow students, faculty, staff and guests with a valid concealed handgun license the right to lawfully carry a concealed weapon within buildings and residence halls.
The second bill, a more limited version of the first titled "A Resolution of support for Teacher and Faculty Concealed Carry," requested that only university faculty and staff be granted the right to lawfully carry concealed weapons on campus.
But critics of the bills argued campus police are the only individuals capable and trustworthy enough to protect the 24,000 or so students from campus violence.
Student government Sen. Autumn Lewis, a vocal proponent of "gun-free zones," told the KFSM news affiliate Tuesday that "allowing guns on the UA campus could make the school more dangerous."
She said it is clear to police that the person "with the gun is the bad guy. The people without guns are the good guys," KFSM reports.
Even if the university's student government had supported the gun-rights measures, getting campus administration to change their stance likely would have been impossible, based on university Chancellor G. David Gearhart's staunch public support for gun control.
He is one of hundreds of college presidents to sign an "An Open Letter to Our Nation's Policy Leaders" advocating gun control.
The letter, published on CollegePresidentsforGunSafety.org, states in part "we come together to ask our elected representatives to act collectively on behalf of our children by enacting rational gun safety measures."
Chancellor Gearhart and campus administrators have said they feel they are taking the proper steps necessary to ensure students' safety by adding five new campus police officers, more officer training on active shooter response, more police patrols campuswide – and maintaining the university's gun-free status.
But Youngblood said he likes to point out a statistic frequently touted after the Newtown, Conn., school shooting massacre in mid-December that "since 1950, every mass shooting of innocent citizens in the U.S., with a single exception, has occurred in inappropriately labeled 'gun-free zones.' "
Youngblood and supporters of campus concealed carry had argued that law abiding citizens should have their constitutional rights to self-defense maintained on campus, as those who have conceal and carry permits undergo thorough criminal and mental health background checks, and participate in firearms training.
Fix contributor Jessica Johnson is a student at the University of Arkansas.
Click here to Like The College Fix on Facebook.
IMAGE: Mike J. Martelli