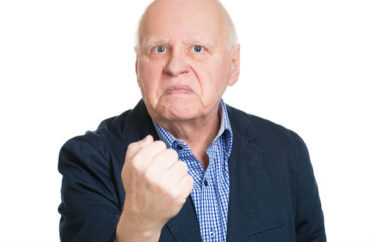 If it's 'triggering' to some people, it must be prohibited
"Workplace climate" standards are often loose enough that any disfavored or controversial person can be fired for speech or behavior that is conveniently interpreted as "harassment."
These standards are exactly what a cabal of Democratic lawmakers in Washington state, including House Higher Education Committee Vice-Chair Gerry Pollet, wants to impose on registered student organizations at Washington State University.
In a poorly written letter to WSU President Kirk Schulz – whose name it twice misspells – a dozen state representatives and senators demanded the public university revoke its recognition of the College Republicans chapter.
They object to the fact that the chapter's former leader James Allsup, a self-described paleoconservative, was invited to speak at the "Unite the Right" white-nationalist rally in Charlottesville last month.
He aired such views "as President of the WSU College Republicans Long [sic] before the Charlottesville Nazi rally," and they were "given a sanctioned platform on campus," the lawmakers wrote.
They took a social media post by Allsup's successor Amir Rezamand out of context as well, to suggest that Allsup's views "continued" in the organization, from which he quickly resigned after the Charlottesville rally.
WSU College Rs, Nazi rally speaker with US Rep Rogers? WSU should hold College Rs account. They elected hate, sanctioned it in their name pic.twitter.com/QRGLEiw1HZ

— Gerry Pollet (@RepGerryPollet) August 15, 2017
Lawmakers suggested that in order for WSU to get help from the Legislature on Schulz's promised "significant diversity and training programs," the CRs chapter must be booted:
How can students or state employees at WSU trust that hate beliefs "are not welcome in our community," when WSU continues to provide an official sanction for the platform from which hate was spread? …

WSU should develop clear standards ensuring that Registered Student Organizations (RSOs) do not contribute to a hostile climate for any other group of students or employees at WSU. These may draw from the readily available standards for workplace climate.

We believe that a climate of fear and distrust sowed from recent events was increased by the official State and WSU sanction of hate speech and action provided by granting the WSU College Republicans status as a Registered Student Organization. This recognition and status provided state supported benefits to, the WSU College Republicans. … There is a record of hate speech and organizing using the platform provided by WSU though sanctioning the College Republicans for the past year.
Lawmakers told Schulz that he can't simply "decry" the speech of people like Allsup, recommending that he gut First Amendment protections on campus to prevent the "triggering" of students:
This is not a question of free speech on campus. The students are free to voice their views with the same access to campus as anyone else. Speech becomes action when people are injured and when other hostile actions are encouraged. Groups which disparage participation of other students and create a hostile environment for everyone to succeed in pursuit of their education should not be given access to WSU and state sponsored benefits as a RSO.
In a press release prominently featured on the House Democrats website, Seattle-area lawmaker Pollet highlighted his leading role in the unconstitutional demands:
What message is sent if one of our two public research universities continues to provide official sanction for this club? WSU is a major state employer and is giving rein to a club that creates a hostile work environment for staff and a hostile learning environment for students.
Pollet has not tweeted his crusade against the CRs but did share a Facebook post about it.
Peter Bonilla, vice president of programs at the Foundation for Individual Rights in Education, said WSU's agreement to execute the lawmakers' demands would violate the U.S. Constitution.
12 Washington legislators calling on WSU to derecognize its College Republicans chapter. Constitutional? Sure ain't. https://t.co/WoiBpy3hZn

— Peter Bonilla (@pebonilla) September 20, 2017
Read the letter and Pollet's release.
IMAGE: pathdoc/Shutterstock
Like The College Fix on Facebook / Follow us on Twitter