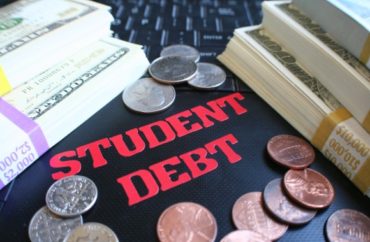 Sponsors say taxpayers would not foot the bill, but critic argues interest serves good purposes 
A group of Democrats in Congress introduced a bill to erase interest on all current federal student loans and cap interest rates for all future borrowers.
The Student Loan Interest Elimination Act would "amend the Higher Education Act of 1965 to eliminate interest on student loans" and "increase annual and aggregate loan limits," according to the legislation text.
"The approach is the latest—and most moderate—move by Democrats to reduce the amount paid back by student loan borrowers," Emma Camp wrote Friday in Reason. 
"Unlike other Democrat-led student loan proposals—most notably, President Joe Biden's recently defeated $400 billion student loan forgiveness plan—this latest bill doesn't propose foisting its costs onto taxpayers," Camp continued.
The act, led by Connecticut Rep. Joe Courtney and Vermont Sen. Peter Welch, both Democrats, would adjust interest rates for future borrowers to be "based on a sliding scale determined by financial need (with the vast majority receiving a zero percent interest rate and no student getting an interest rate above 4 percent)," according to a fact sheet from Congressman Courtney's office.
"Under this legislation, the Department of Education would create a Trust Fund to offset the elimination of interest," the sheet stated. "Student loan borrowers will make payments on their principal balance and these funds will be put into the Trust Fund."
"The Trustees overseeing this fund would invest payments from student loan borrowers into a variety of bonds, including municipal bonds and Treasury bonds," it continued. "The returns on those investments would fund the costs of operating the student loan program – saving taxpayers from fronting the bill while saving borrowers from higher interest rates and student loan interest capitalization."
A writer at the conservative-leaning National Association of Scholars has an alternate interpretation, however.
"Don't be fooled — cutting interest rates is just another way to accomplish debt forgiveness, this time through the back door," research fellow Neetu Arnold wrote Friday in The Hill.
Interest rates exist "for a few good reasons," Arnold wrote; these include helping the government recoup losses caused by inflation, and compensating lenders for lost opportunity costs and defaulted payments.
And Camp argued that "while the proposal is a welcome change after a year of fierce support for incredibly expensive student loan reforms, it's worth noting that the Student Loan Interest Elimination Act attempts to alleviate a problem caused by the government getting involved in the student loan business to begin with."
MORE: Biden's new billion-dollar student loan cancellation plan faces hurdles, critics
IMAGE: ShutterstockProfessional
Like The College Fix on Facebook / Follow us on Twitter