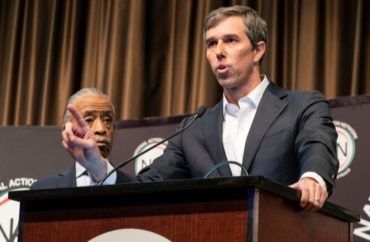 Journalism think tank calls it 'flat-out wrong'
Robert Francis "Beto" O'Rourke doesn't value the lives of college students a day before their birth. He values black college lives when they are endangered by the wrong political views, though.
The Democratic presidential candidate's campaign admitted to ejecting Breitbart journalist Joel Pollak from his event at historically black Benedict College Tuesday, Politico reports.
Pollak hadn't said or done anything at the event to be ejected, according to Aleigha Cavalier, O'Rourke's national press secretary. Instead, she said his publication wasn't a real news outlet and Pollak was a bad seed:
[W]hether it's dedicating an entire section of their website to "black crime," inferring that immigrants are terrorists, or using derogatory terms to refer to LGBTQ people, Breitbart News walks the line between being news and a perpetrator of hate speech. ["Black crime" was actually a tag, not a section, and its last use was apparently February 2018, with one article match.]

Given this particular Breitbart employee's previous hateful reporting and the sensitivity of the topics being discussed with students at an HBCU, a campaign staffer made the call to ask him to leave to ensure that the students attending the event felt comfortable and safe while sharing their experiences as young people of color.
MORE: Beto tells college student his life was worthless day before birth
>@joelpollak of Breitbart reported that he'd been ejected from an event by the O'Rourke campaign bc he'd been "disruptive" at previous events. https://t.co/RSNYTXjBUE I asked O'Rourke campaign for its side of the story and got this statement from Aleigha Cavalier: pic.twitter.com/3pNkZrek8Y

— ErikWemple (@ErikWemple) August 28, 2019
Pollak is a graduate of Harvard Law School and winner of the 2018 Robert Novak Journalism Alumni Fellowship, the same award previously bestowed on College Fix Editor-in-Chief Jennifer Kabbany.
He wrote about the Benedict College incident after it happened Tuesday, saying he was standing in the lecture hall along with other news outlets waiting for O'Rourke's event to start.
An O'Rourke staffer approached Pollak and "cheerfully" greeted him upon learning he was with Breitbart, according to Pollak:
A few minutes later, before the event began, a campus police officer approached this reporter and motioned for me to accompany him to the back of the room, adding that I should bring any property I had with me. In the hallway outside, he informed me that I was to leave.

A different member of the O'Rourke campaign staff, who said his name was "Steven" and would not give a last name, said that I was being ejected because I had been "disruptive" at past events.
Pollak disputes that he did anything to disrupt the two previous O'Rourke events he had covered.
At the most recent on Monday evening, at a "press gaggle," he asked the candidate a question about O'Rourke's "misquoting" of President Trump's controversial comments after the Charlottesville "Unite the Right" march.
The staffer "Steven" threatened Pollak, the journalist wrote, and told him to leave voluntarily or otherwise be "officially uninvited" from campus, which Pollak took to mean arrest. He left.
Pollak, who says he has covered every major 2020 primary candidate and the first two primary debates on MSNBC and CNN, highlighted O'Rourke's comments on an MSNBC town hall last year.
The failed Senate candidate from Texas responded to a question from a professor about press freedom, saying "we'll lose the essence of our democracy" if journalists "can't hold people like me accountable."
MORE: Beto apologizes for college-era sexist remarks
Breitbart itself responded with a statement noting that Pollak is an Orthodox Jew who married "a black woman who serves in the military." It is "absurd" to say his presence would make anyone at Benedict College feel uncomfortable, the outlet said, accusing O'Rourke of infantilizing black students by telling them how they must feel.
It posted the full exchange of Pollak's question to O'Rourke at the Monday press gaggle, purporting to catch the candidate making falsehoods about the context of Trump's comments after the Charlottesville march turned deadly.
Twitchy also came to Pollak's defense on the Trump comments.
Beto O'Rourke repeats the 'very fine people' lie (and more) in his tough-talking message to President Trump https://t.co/L9vlas794T

— Twitchy Team (@TwitchyTeam) August 14, 2019
The campaign later backed down, telling CNN "there will be no restricted access to future events" to keep out Breitbart or Pollak. That followed unusual criticism of the campaign from the mainstream media.
New York Times reporter Matthew Rosenberg said the O'Rourke campaign's action was "wrong" and that freedom of the press "is not a conditional right."
No matter what you think of Breitbart, this is wrong. No campaign should be deciding who gets to cover its events. An event is either open to the press, or it is not. Freedom of the press is not a conditional right — it applies to every American regardless of their views. https://t.co/BHFxslRxjL

— Matthew Rosenberg (@AllMattNYT) August 28, 2019
According to Politico, the journalism think tank Poynter mentioned Pollak's account in its daily newsletter, saying it would be "flat-out wrong" if true "and a really bad look for the Democratic hopeful's campaign."
Poynter itself was caught using a "blacklist" of conservative news sites deemed "unreliable," from Breitbart to the Washington Free Beacon, that had been created by an employee of the discredited Southern Poverty Law Center.
Read the Politico report and Pollak's account.
MORE: Professor renews 'white genocide' advocacy because Beto lost
IMAGE: lev radin/Shutterstock
Like The College Fix on Facebook / Follow us on Twitter