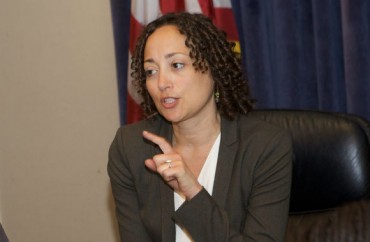 Catherine Lhamon is a real piece of work.
The chief of the Department of Education's Office for Civil Rights, whose 2011 "Dear Colleague" letter set off a panic among colleges to lower their standards for judging students accused of sexual harassment (and worse) or risk losing federal funding, claims that its letter and followup "guidance" did no such thing.
Lhamon finally responded to a letter demanding answers from Republican Sen. James Lankford of Oklahoma, who chairs the Regulatory Affairs Subcommittee, on what authority OCR had to issue substantive new rules without the required notice-and-comment protocol. (His Republican colleague Lamar Alexander of Tennessee, who chairs the committee that primarily oversees Education, has been on Ed's case about this even longer.)
Lhamon's explanation seems to be that Title IX's original formulation in 1975 went through notice-and-comment, so any further OCR interpretation – no matter how novel – needs no followup opportunity for colleges and the public to weigh in. This is simply amazing:

As a Lankford staffer noted when he sent the letter last month, colleges "are so afraid of the Department of Ed, when we meet with them, they simply say, 'Don't use our names. We don't want to alienate the department or risk losing our federal funding.'"
RELATED: Senate chairman demands Department of Ed give a legal reason for dumping due process
OCR made clear two years ago that it saw its Dear Colleague as binding, threatening Tufts University with full defunding when it balked at agreeing to a finding that its current policies violated Title IX as newly construed by OCR.
Lhamon goes on to say that the preponderance-of-evidence standard ("more likely than not") OCR has required colleges to use since 2011 is "equitable" and was already used by four in five colleges at the time. Incredibly, in her final footnote, she cites a study by the Foundation for Individual Rights in Education (FIRE) – perhaps OCR's biggest critic – as justification for its interpretation.
Hard to see why OCR needed extra time to respond to @SenatorLankford. Perfunctory letter, as if written in 30mins:https://t.co/KwCnoVJLcH

— KC Johnson (@kcjohnson9) February 19, 2016
In other words, because a notice-and-comment rulemaking resulted in the obligation of schools to provide "prompt and equitable" grievance procedures, OCR gets to decide what that means with no outside input. The 2011 Dear Colleague "simply serves to advise the public" how OCR constructs the regulation, Lhamon wrote.
RELATED: Dept. of Education SHREDDED for lawless overreach in Senate hearing
Lankford is promising not to let this rest, a staffer told The Chronicle of Higher Education:
The letter "raises further concerns for Senator Lankford, and he is now contemplating several measures to continue this oversight," Mr. [Darrell] Jordan wrote in an email. He added, however, that "we're not ready to confirm our next steps just yet."
FIRE is also calling BS on Lhamon saying its study justifies her course of action:
But William Creeley, vice president for legal and public advocacy at FIRE, a free-speech advocacy group, on Thursday said the civil-rights office had exceeded its authority if even one college felt compelled to change its policies based on how the law was interpreted in the 2011 guidance letter. "They should rip it up and start again," he said, arguing that the document is widely interpreted by colleges as having the force of law.
Ironic: Catherine Lhamon cites a @TheFIREorg study … to *defend* her anti-due process position.https://t.co/1TQ1qKiFxy

— Jason Willick (@jawillick) February 19, 2016
The Chronicle also quotes Ed's general counsel from the second George W. Bush term, who said Lhamon's letter "glosses over" whether it could publish guidelines that specify an evidentiary standard without notice-and-comment.
Read Lhamon's response and The Chronicle story.
RELATED: White House chickens out of confirmation fight over next education secretary; no hope for accused students
Like The College Fix on Facebook / Follow us on Twitter
IMAGE: US Department of Education/Flickr