DePaul University restricted access to a campus event Thursday evening meant to highlight gender inequality atrocities committed against women in Muslim-majority societies, organizers say.
Billed as a "Muslim Women Matter" discussion by student organizers, the June 1 gathering included a screening of "Honor Diaries," which highlights women who battle for the right to an education, religious freedom, and to be freed from practices such as forced marriages and female genital mutilation.
Afterward, the film's creator, Raheel Raza, as well as Benjamin Bull of Alliance Defending Freedom, discussed the issue further.
"The discussion and movie went well, each speaker had good ideas on how address the issue of abuse of women in the name of Islam," said Matt Lamb, a spokesman for Turning Point USA, whose DePaul chapter hosted the event. "Raheel Raza spoke about how the Left does not want to engage in discussion on this issue of abuse of women. She said feminists are often her biggest opponents, even though this is a feminist issue."
Nearly 20 people attended, but perhaps many more could have if DePaul University officials did not restrict access to it, Lamb said.
At issue was DePaul Turning Point USA's decision to change the event's line-up roughly 10 days before it was to take place — and after campus officials had approved it, according to copies of emails between organizers and administrators obtained by The College Fix.
In a May 24 email to organizers from Amy Mynaugh, director of student involvement at DePaul University, she states DePaul Turning Point had originally sought a "meeting" with Charlie Kirk, its founder.
Their new proposal, she added, would mean the student group could host the movie with speakers, but must restrict attendance to only its members — an option that would also prohibit them from advertising it. They also had the option of opening it to the public, but that choice would mean they could only show the film, and not include the two speakers, Raza and Bull.
"This is consistent with how we've worked with other student orgs this academic year, when they've wanted to bring speakers. We have not allowed substitutions," Mynaugh stated in her email.
In the end, DePaul Turning Point decided to go with the option of showing the film and hosting the speakers, which meant only their members could attend. Student Jason Plotzke, chapter president of the group, said in a statement to The College Fix that his university's "position on free speech is illogical."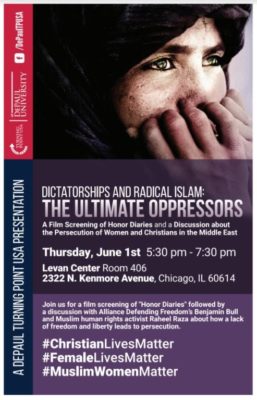 "They tried to use a vague policy about time, place and manner to determine only days before the event that we could not have our event as scheduled, with movie, speakers, and opening it to the DePaul community," he said. "The school is actually forcing us to exclude people from coming simply because they have not registered on a website as a member."
Lamb said they tried to encourage non-members who wanted to attend to quickly sign up as a member of Turning Point USA, but it was a hoop no one should have to jump through.
"It's freedom of association," he said. "We don't want to force anyone to say they are a member of Turning Point if they don't want to be [but still want to attend the event.]"
A June 1 letter to DePaul officials from the Foundation for Individual Rights in Education to university President Henry Holtschneider also criticized how administrators at the Catholic institution handled the situation.
The letter denounced the "arbitrary restrictions" placed on the event, noting they are "contrary to DePaul's repeated and express promises of freedom of expression," writes Ari Cohn, director of FIRE's Individual Rights Defense Program.
"Students should not have to symbolically join a group they may believe to hold reprehensible views, nor should an organization be compelled to accept members who find it reprehensible, in order to watch a film and debate its views," Cohn stated.
A DePaul campus spokesperson did not respond to a request for comment from The College Fix. 
MORE: DePaul forbids 'Gay Lives Matter' posters as students protest gay reporter's talk on radical Islam
MORE: Catholic university bans 'Unborn Lives Matter' posters
Like The College Fix on Facebook / Follow us on Twitter
Like The College Fix on Facebook / Follow us on Twitter