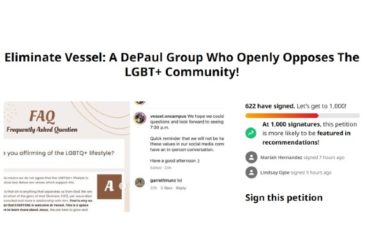 'We are non-affirming. This means we do not agree that the LGBTQIA+ lifestyle is supported by biblical text,' Christian group says
Students at Catholic DePaul University want to see a nascent campus group banned because it does not support LGBTQ lifestyle choices.
A Change.org petition demanded that administrators at the Chicago university ban the group called Vessel from starting a chapter because it believes in sexual restraint and called itself "non-affirming" of the LGBTQ agenda. "Eliminate Vessel," the petition stated.
"DePaul has a wide variety of religious groups on campus, but one in particular called Vessel is outwardly promoting that they are 'non-affirming' to the LGBTQIA+ community because of religious beliefs and claiming that it's a 'sinful' lifestyle," the petition stated.
The Catholic Church also holds that homosexual sexual activity is also sinful. "Basing itself on Sacred Scripture, which presents homosexual acts as acts of grave depravity, tradition has always declared that 'homosexual acts are intrinsically disordered,'" according to the Catechism of the Catholic Church. "They are contrary to the natural law. They close the sexual act to the gift of life. They do not proceed from a genuine affective and sexual complementarity. Under no circumstances can they be approved."
The Catholic Church also calls individuals with homosexual inclinations to live a life of chastity.
On a now-removed Instagram page, Vessel posted a Q&A about if the group was "affirming of the LGBTQ+ lifestyle."
"We are non-affirming. This means that we do not agree the LGBTQIA+ lifestyle is supported by biblical text," the group wrote and then provided Bible verses to support their views. The post also stated that everyone is a sinner but that the group wants all to join and work on their relationship with Jesus.
A DePaul media relations member told the campus newspaper that the group has not formally reserved space nor applied to be a registered organization yet.
MORE: Harvard students blame pro-lifers for black Democrat's anti-gay attack
Student organizers believe that DePaul's anti-discrimination policy can be used to shut down the group.
"In some way, with the quoting of the Bible verse, I think to an extent, that is still discrimination," student organizer Alexandra Murphy told The DePaulia.
Vessel told the campus newspaper:
Recently, our small group Vessel was questioned on our views of sexuality and relationships. In no way did we intend to harm, or seem to ostracize or reject the LGBTQIA+ community at DePaul. In fact, we would much rather focus on worship and community building, key aspects of our faith community.

We have reached out to those who have raised issues with our group (none of these people have attended or attempted to attend a meeting) in order to promote conversation and understanding, but none have followed up on this.

Disagreement is not harassment, but we apologize for any hurt we may have caused in how we have communicated things. As Christ-followers we commit to finding better ways to communicate and peacefully coexist with those who disagree with the tenets of our faith. We believe all people are deeply loved by our Creator and that's why our focus is on Jesus.
A campus LGBT advocacy group called Spectrum wrote that it was "ashamed" by its peers who supported Vessel and accused the group of "exclusion" and "bigotry."
MORE: DePaul hosts 'Queer Peers' mentorship program
IMAGE: Change.org
Like The College Fix on Facebook / Follow us on Twitter