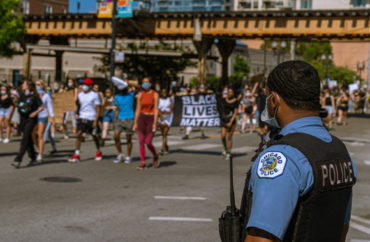 Provost shuts down demand to end discounted degree program
DePaul University will not cut ties with the Chicago Police Department despite demands from some campus activists to do so.
DePaul offers a program that provides a discounted education to Chicago Police Department officers through the Fraternal Order of Police, providing them with an opportunity to earn degrees in criminal law, education or business administration.
The controversy dates back to late May. Some students refused to tutor their law enforcement peers and launched a strike. Campus activists also called for the university to end the entire discount education program. Campus activists were also furious after DePaul's president denounced the looting seen in Chicago.
But in a June 22 statement to the campus community, DePaul interim Provost Salma Ghanem rebuffed the activists' demands to cut ties with police and said "the actions of a few do not represent the students we teach."
"Our university is dedicated to providing students an education imbued with Vincentian values of social justice and transforming society to serve the most vulnerable. We are called to provide access to high-quality education to all," Ghanem's statement read.
Ghanem's statement included an anecdote from a Latina Chicago police officer and DePaul student who stated she was brought to tears by campus activists' anti-police demands.
"As a CPD Latina I am proud to be who I am and for the past 12 years have worked tirelessly throughout my career to make a difference and I can bet my life savings that many officers in our cohort share the same feelings," the officer stated.
"… Besides wearing the uniform I proudly wear, I will always be a Latina, who was once a high school dropout, young mother, and here I am today proudly serving and protecting our city."
The Chicago Police Department does not patrol the campus, but its officers respond to 911 calls at DePaul, a private Catholic institution just north of downtown Chicago.
Student activists had expressed anger with policing in the wake of George Floyd's death while in police custody and took action to that end.
"Policing systems across the United States have gone too far for too long and we, the tutors of the University Center for Writing-based Learning, will no longer stand by while we work with the Chicago Police Department through DePaul University's relationship with the Fraternal Order of Police," the activists' petition had stated.
Kaitlyn Madden, the head writing center tutor, told the Chicago Tribune the "general consensus was not feeling comfortable with people that make them [minority students] feel unsafe and are part of a larger institution that upholds racist and white supremacist values."
Madden also told the Tribune many tutors "are people of color and don't feel comfortable" assisting police officers, but then admitted there weren't any specific complaints about the police officers.
The Chicago Tribune reported that a strike launched by the student activists ended after the university agreed to have DePaul staff tutor the police officers instead of student employees. The center still tutors police officers.
In a related uproar on campus, students had voiced anger that DePaul President Gabriel Esteban mentioned looting in his address to the campus community about policing concerns.
"The pain of injustice is only deepened by the reckless behavior of those who would commandeer such a moment to loot and destroy, and perhaps further divide an already fractured nation," Esteban stated.
Students had responded in a petition arguing that stance means Esteban values property over life and demanded "DePaul University prioritize black lives and the wellbeing of its community over and against its own proprietary relations."
Similar petitions to cut ties with the Chicago Police Department are circulating at Loyola University and Northwestern University. Loyola offers a tuition discount program with the Chicago Police Department as well.
MORE: U. Chicago activists occupy police HQ, upset pizza not allowed in
MORE: These protesters kind of have a point about their campus police
IMAGE: Untitled Title / Shutterstock
Like The College Fix on Facebook / Follow us on Twitter